I really love salad. I eat a salad almost every day for lunch which, for some reason, annoys my daughter to no end. "Mix it up, Mom! You should try new things!" But that's what I love about salad. You can mix it up and make something new every time. One of my favorite kinds of salad is the caesar. So simple, yet so delicious. Unfortunately, most restaurant and store bought caesar dressings are made with anchovies which, as a vegetarian, I choose not to eat. So, when my caesar craving hits, I end up making my own dressing most of the time. I have tried many different versions and variations and have come up with one that I really like. Bonus, it's pretty dang healthy! Yesterday, I was craving a caesar salad and decided to make one for dinner. I added quinoa to make a bit more hearty and main dish-worthy and toasted up some chickpeas in lieu of croutons (I stole that idea from
Oh She Glows
!). It was yummy, so I thought I'd share the recipe with you!
Ingredients:
for the salad:
3-4 cups kale, chopped
1 can chickpeas, toasted (instructions below)
1 can black olives (Kalamata would be good, too, but Mimi is obsessed with canned black olives.)
1 cup quinoa, cooked according to the instructions
for the dressing:
1-2 cloves of garlic, minced
1/2 cup Greek yogurt (I like full fat, but low or no fat would be fine.)
1/4 cup grated romano cheese
2 tsp dijon
2 tsp red wine vinegar
2-3 tsp fresh lemon juice
2 tsp olive oil
salt and pepper to taste
Instructions:
I like to massage salt into my kale and then let it sit for about a half an hour before I assemble my salad. This is a totally optional step, but it wilts the kale a bit and makes it more tender and easier to eat.
While the kale is wilting, drain and rinse the chickpeas. Heat the oven to 400 degrees F. Place the chickpeas on a baking sheet, cover with about a tbsp of olive oil, sprinkle with a bit of sea salt and garlic powder, and place in the oven for about 25 minutes. Shake the pan halfway through to stir the chickpeas a bit. They will be brown and toasty when they are done.
While the chickpeas are toasting, place all of the dressing ingredients into your blender and blend until smooth.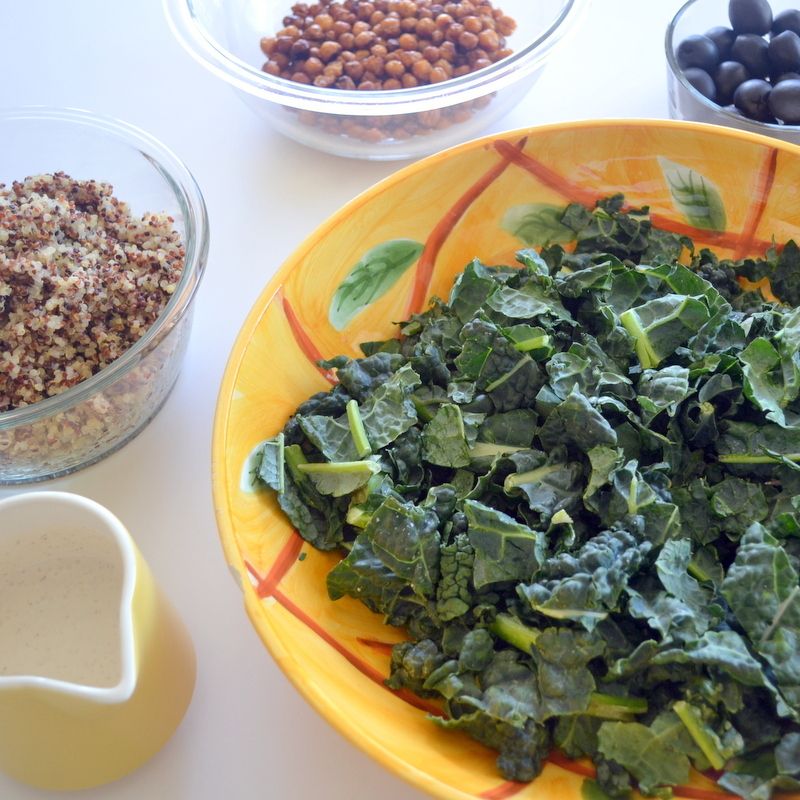 Add the olives and cooked quinoa into the bowl with the kale and top with the dressing. Mix well. Top with the toasted chickpeas and sprinkle a bit more romano atop, if you please. I am always pleased with more cheese. I also cooked up some breaded "chicken" to add on top of the salad. You can obviously use real chicken or just skip this step entirely!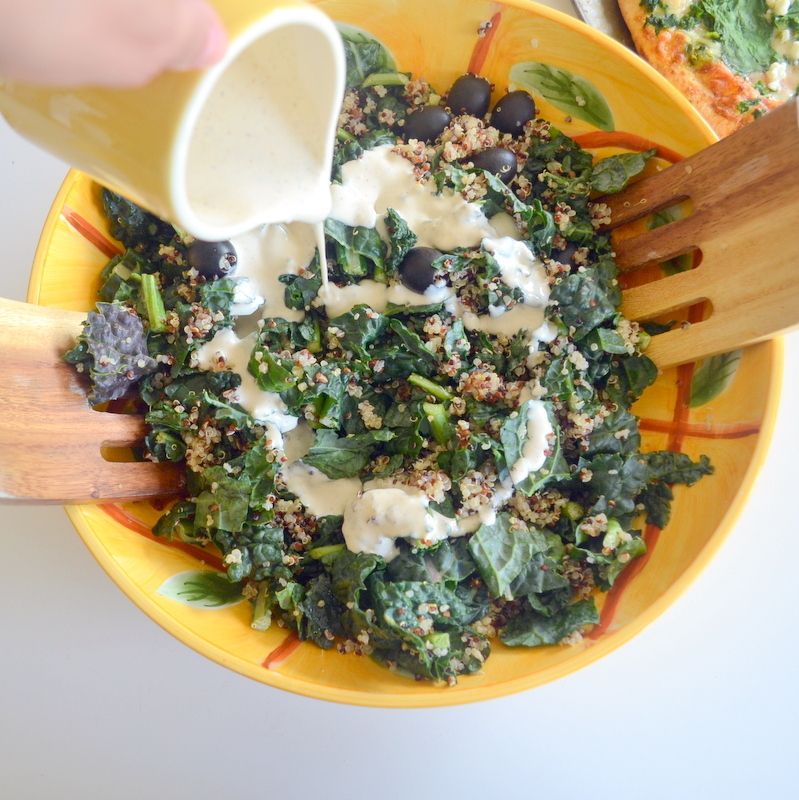 I served our salad with a simple flatbread, but we really didn't need it. It was delicious and definitely filling enough on its own!
Are you a caesar salad fan?
xoxo, nora bird