This post is kind of a 'bird seed', a 'baby bird.i.y', and a 'mama bird' all rolled into one. There are two (really really really simple) recipes and cute kids making things. And I was there for it all, so I just went ahead and decided to call it a 'mama bird' post. Not that you really care, I'm just explaining myself. I am sure you weren't going to lay awake tonight thinking, "Gosh, I wonder why Nora labeled that a 'mama bird' post???? How curious!" And if you were, I am sorry to say, that is really quite strange. But I digress. Onto the post!
Mimi is always telling us what she is going to be when she grows up. It usually changes day to day; she's going to be a scientist, a basketball player, an engineer "like daddy", a mommy "like mommy", a teacher, a ballet dancer, a nurse, a writer, an artist, and so on and so forth. But lately she has been telling me she is going to be a chef, and that one has stuck for a couple of weeks now. So, I have been letting her help out with meals, washing and chopping fruits and veggies and other simple tasks, and she has been loving it. On Sunday we went to the farmer's market and ended up buying a big bunch of strawberries. And yesterday, Mimi declared that she wanted to make dessert with the strawberries. We decided on chocolate covered strawberries (with sprinkles, of course) and cream cheese filled strawberries.
What you'll need:
About two dozen strawberries. (We actually used 27 and made 15 chocolate and 12 cream cheese.)
Parchment paper
For the chocolate:
4 oz semi-sweet chocolate chips, melted
sprinkles (optional)
For the cream cheese:
4 oz cream cheese
1/4 cup powdered sugar
1/8 tsp (maybe a titch more) almond extract
Mix all ingredients together and put in a ziplock (with one corner cut off) or pastry bag.
Instructions:
Line a baking sheet with parchment.
For the chocolate, holding it from the stem, simply dip the strawberry into the melted chocolate and then into the sprinkles. Place onto the parchment lined pan and refrigerate for at least 30 minutes.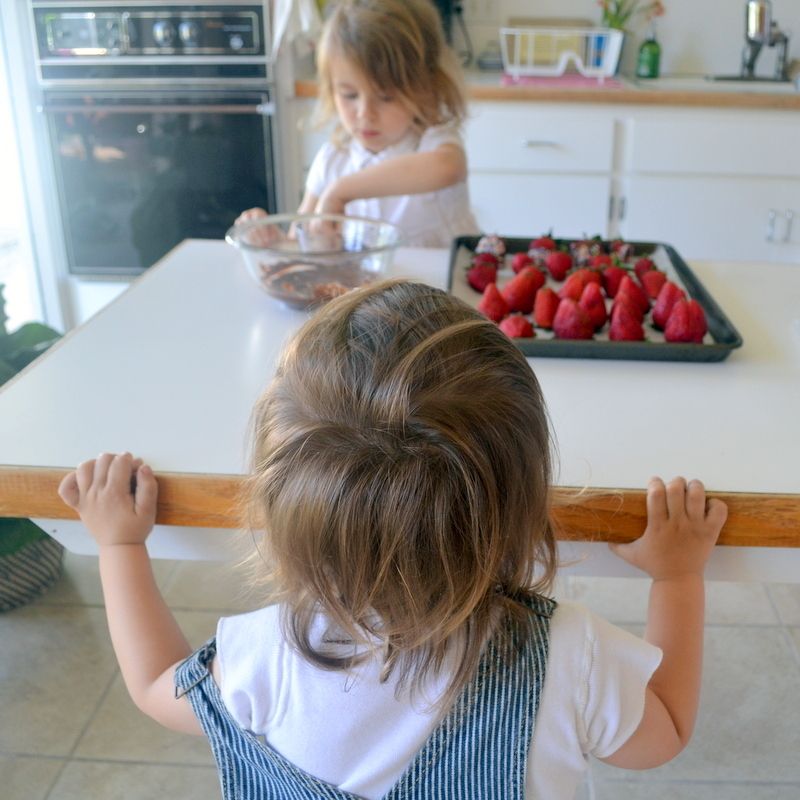 Little brother was very interested.
He wanted a closer look!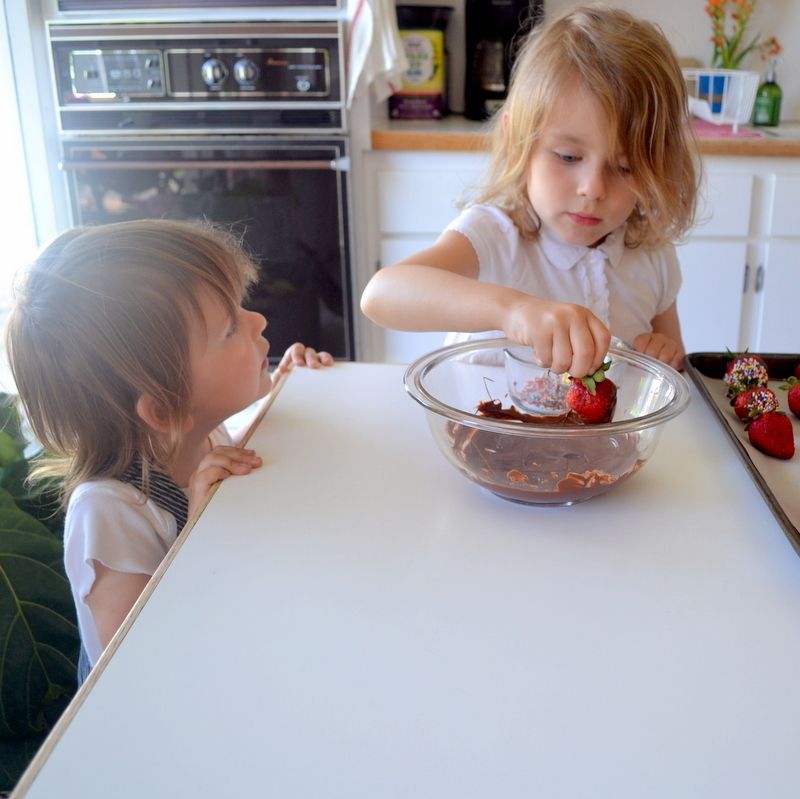 Perhaps he, too, will want to be a chef!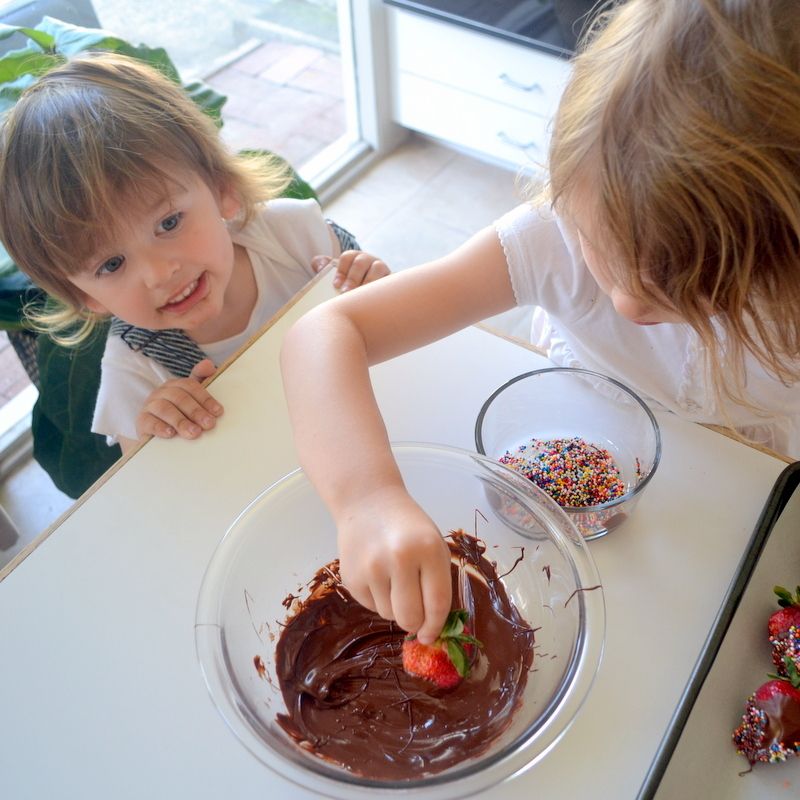 Or maybe he just wants a taste of that sweet sweet chocolate!
For the cream cheese, cut a deep X into the tip of each strawberry. Spread the berries open and pipe about 2 tsp of the cream cheese mixture into each. Little hands will need help with this process! Place onto the pan and refrigerate until you are ready to eat!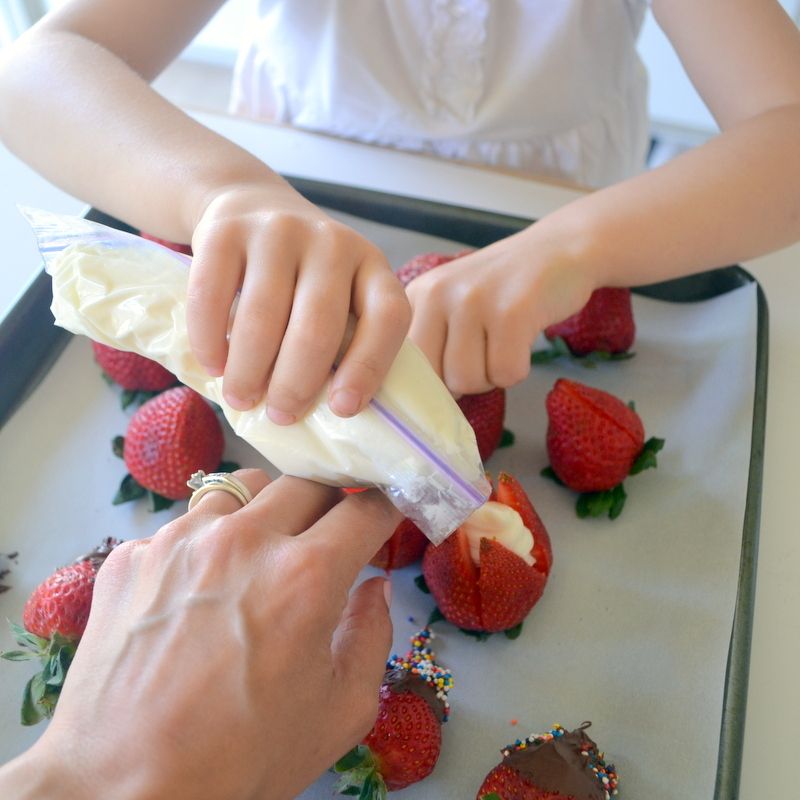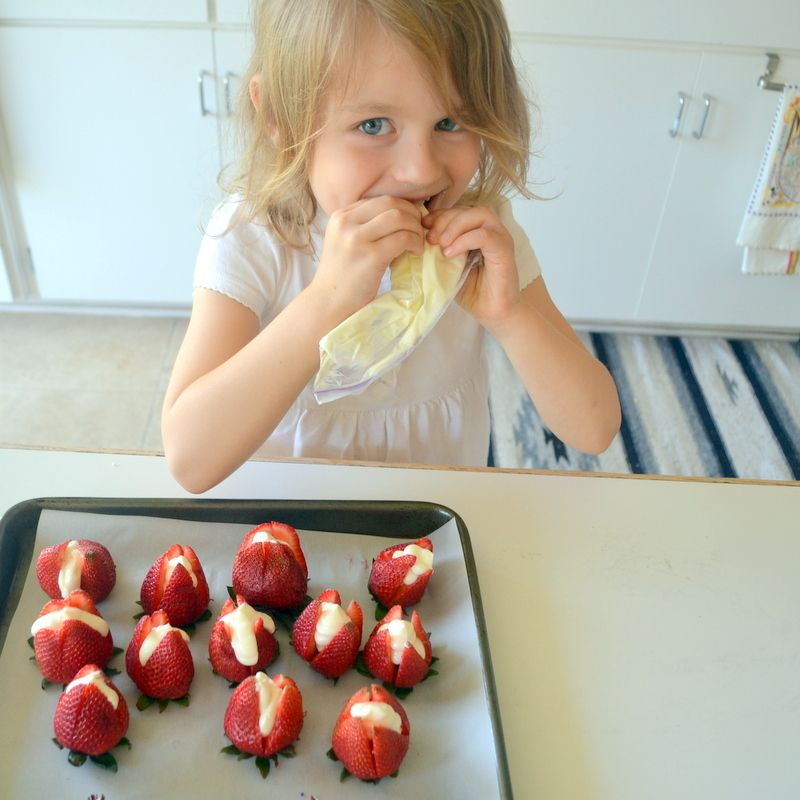 Once the strawberries are filled, go ahead and eat the rest of that cream cheese. You know you want to!
Enjoy!
xoxo, nora bird (and Chef Mimi, too!)