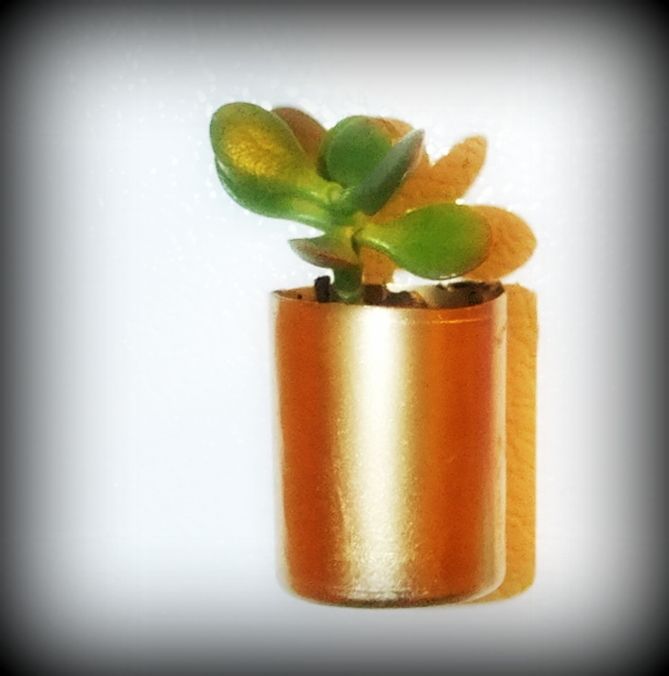 I went to a "favorite things" blogger meet-up a few weeks ago, and one of the ladies brought the cutest little magnet succulents as gifts. I wanted to grab one, but there were only three, and I decided that I would let other people take them, and I'd somehow make my own. I am, after all, always looking for fun and vute DIY ideas. So I got to thinking how I could do it on my own.
And then the other day, I was digging through a drawer at work and found this old Clinique bottle. The lotion was almost gone, and I still kept it. Because that's what I do. I keep stuff. Luckily for me, it happened to come in handy this time around. I decided to recycle the bottles and make my very own succulent magnets.
So, if you travel a lot and have extra sample sized lotions or shampoos, this is a great project for you. What you'll need:

~ Used (and cleaned) sample sized bottles. (Full disclosure, I did not use that Clinique bottle, because I realized there was still lotion in it, and that stuff is not cheap.)
~ Small succulents. This is a good time to use your trimmings from bigger plants.
~ Dirt and rocks or sheet moss.
~ Spray paint.
~ Magnets.
~ Hot glue.
~ Scissors or knife/exacto blade.
~ Nail file.
1. Cut the top off the bottle, leaving enough room to fit whatever size plant you have. Full disclosure, I did a very rough cut using a very old steak knife.

2. Using the nail file (or sandpaper if you're a true DIYer), file the bottles until they are smooth.
3. Spray paint the bottle, front and back.
3. After the paint dries, hot glue the magnet to the back of the bottle. Full disclosure, I glued one too low, and had to redo it. Had I not, every time we opened the fridge door, the plant would have tipped upside down.
4. Add a few rocks or sheet moss to the bottom of the bottle.
5. Fill the rest of the bottle with dirt.
6. Firmly plant the succulent into the dirt.