I don't know why I love traditions so much. I think it's because the few we had in our family growing up stuck with me and are still some of my favorite childhood memories. I want to create the same kind of memories for my kids.
I knew that as they got a bit older, I wanted to teach the kids how to cook. I loved watching my mom cook, and even if I didn't love everything she made when I was a kid, I love it all now, and she is by far the best cook that I know. I'd like for my kids to have the same appreciation for food as I did growing up. And in my eyes, part of that appreciation comes with knowing how to make it. I mixed this thought with my love for sushi, and we decided to make it a Sunday tradition. And so Sushi Sunday began.
Here's how we made our first round...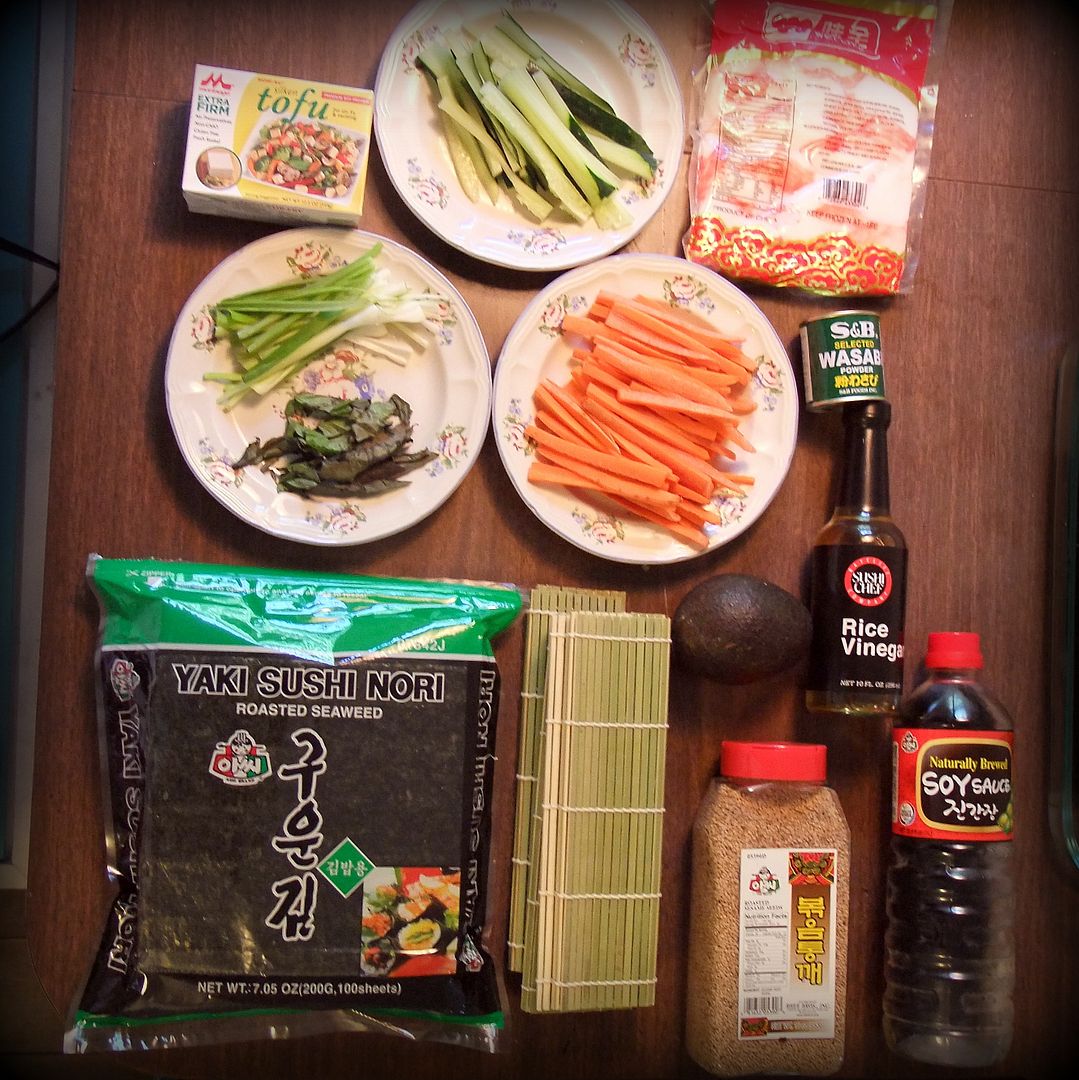 We went to United Noodle and bought everything we would need for probably the next 32 Sushi Sundays. Seriously, we have 30 pounds of sticky rice (not pictured). The basics for classic sushi that you will need are:
~ Nori
~ Sticky rice (plain white rice won't work)
~ Rice vinegar
~ Any vegetables of your choosing, sliced in long slices
~ Soy sauce
~ any protein you want (I used tofu and the kids and Chris used fake crab)
~ Sesame seeds
~ Sushi mats
~ saran wrap
~ Wasabi
Start with a dry Nori sheet. They tell you to soak them, but trust me on this, don't. They become a disgusting pile of mush if you do. We simply laid saran wrap over the sushi mat, the Nori over the saran wrap, and then brushed the Nori with a mixture of water and rice vinegar. This softens it up enough to roll them without cracking, but not enough to make them into Nori porridge (Norridge??).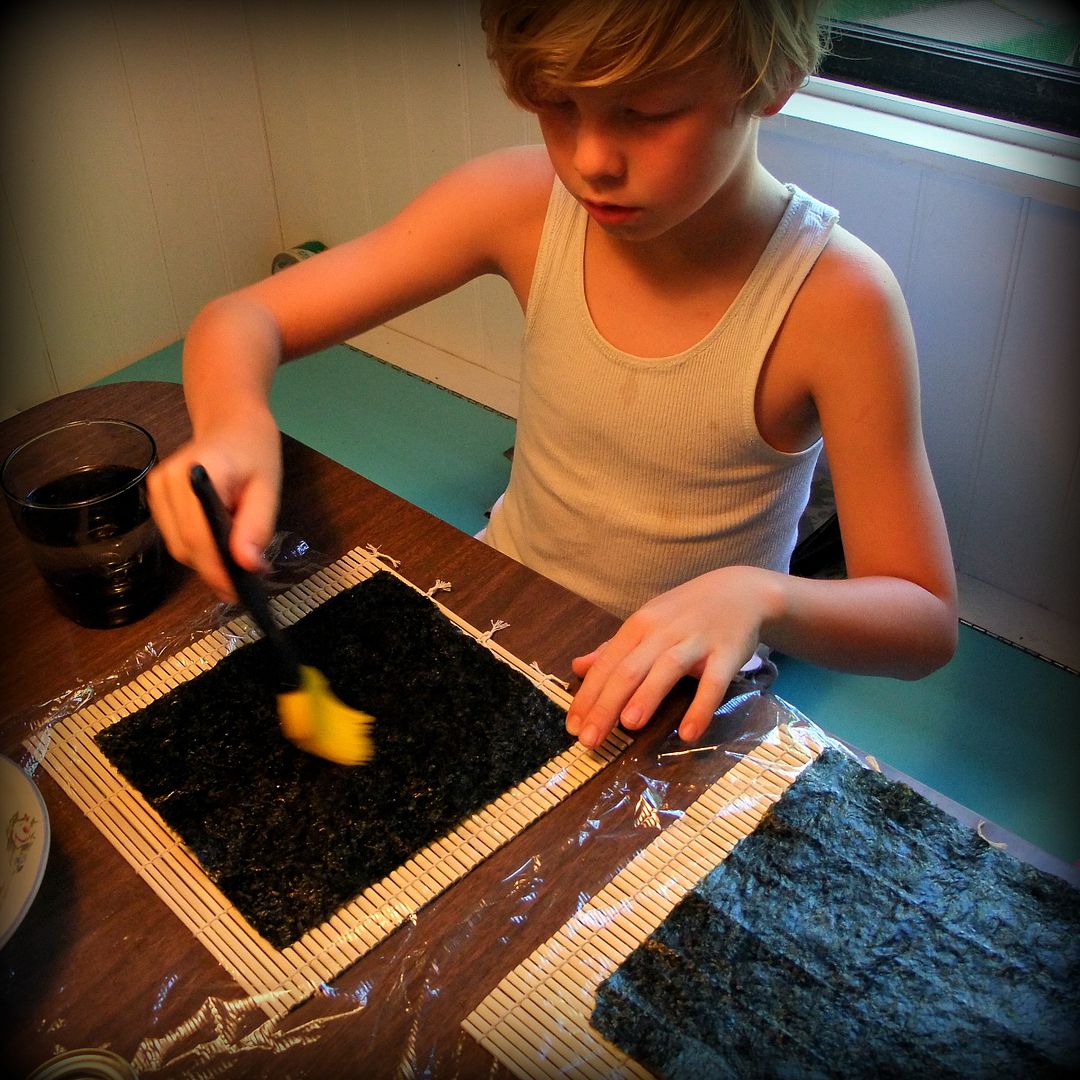 The add enough rice to spread over 1/3 -- 1/2 of the Nori.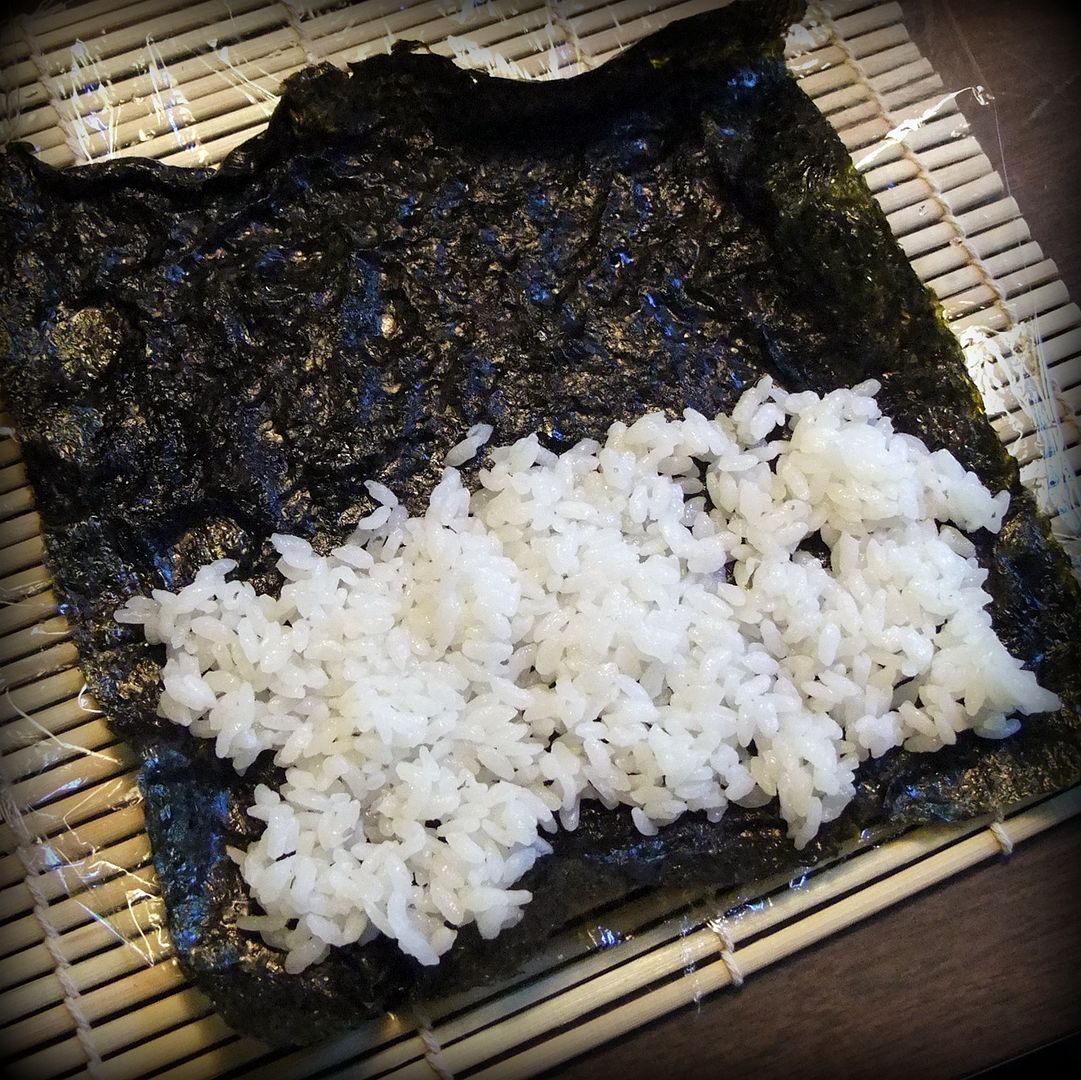 Hint: dip your fingers in the rice vinegar/water mixture so that the rice doesn't stick too much. The name sticky rice is not a lie.
Then add whatever veggies and protein on top of the rice to form a nice line. Try not to make it too thick, or it won't roll properly.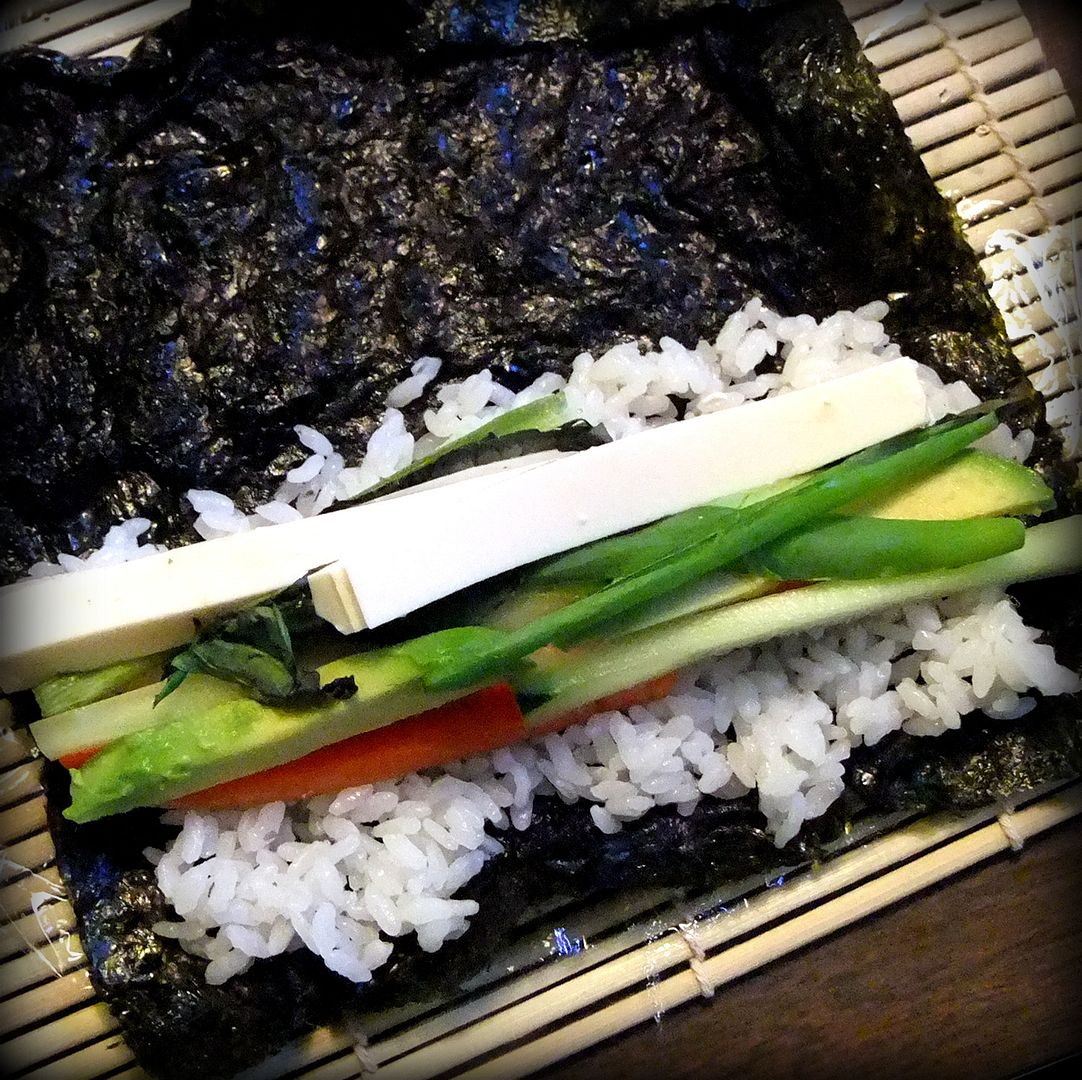 Start rolling the mat, pulling the saran wrap out as you go. You want to roll it very tight so it doesn't come apart when you cut it.
Looks appetizing, no?
Using a very sharp knife, slice the sushi roll into bite size pieces.
And enjoy!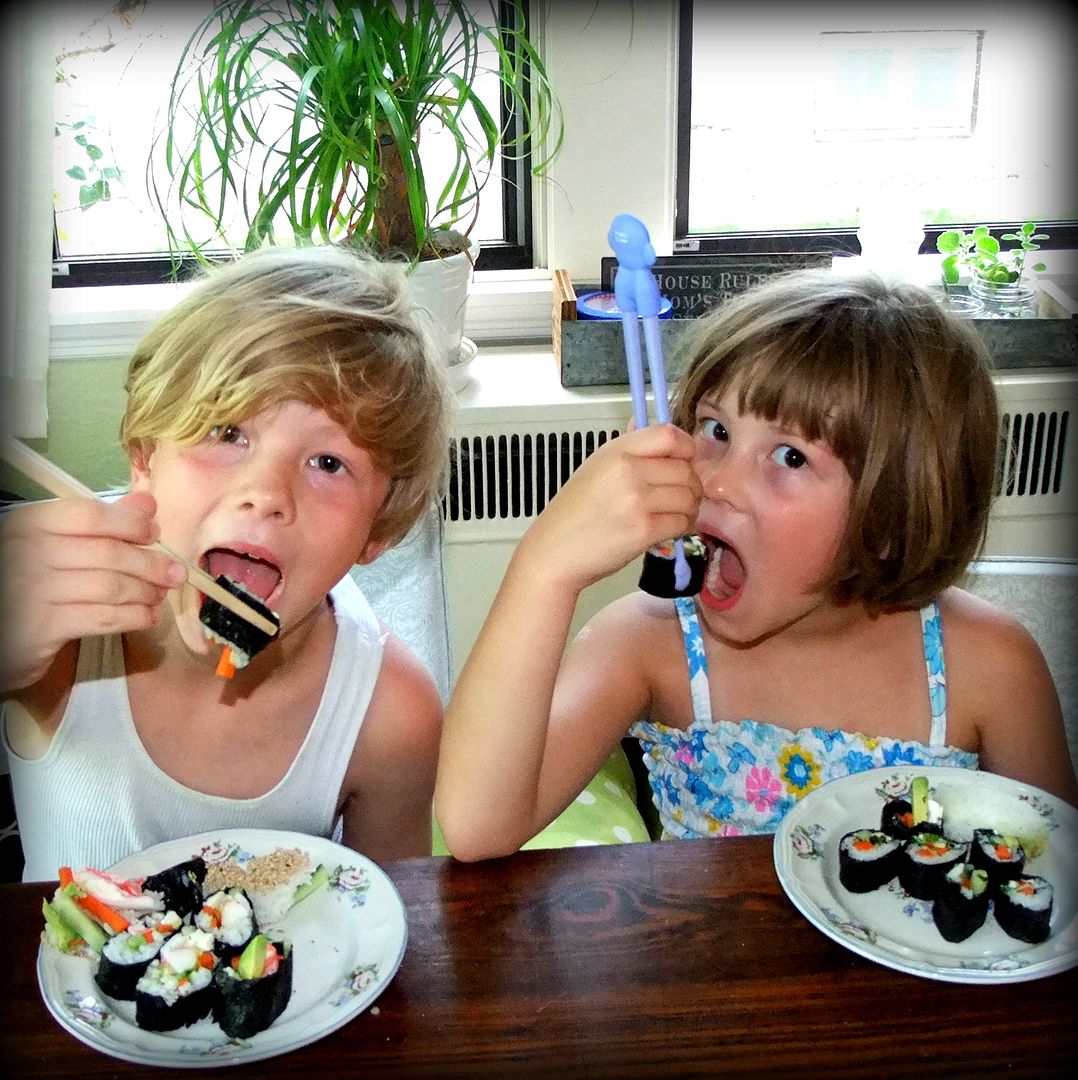 The kids especially enjoyed them because they made them themselves. There's a great satisfaction in enjoying your own creations. They were so proud and so happy!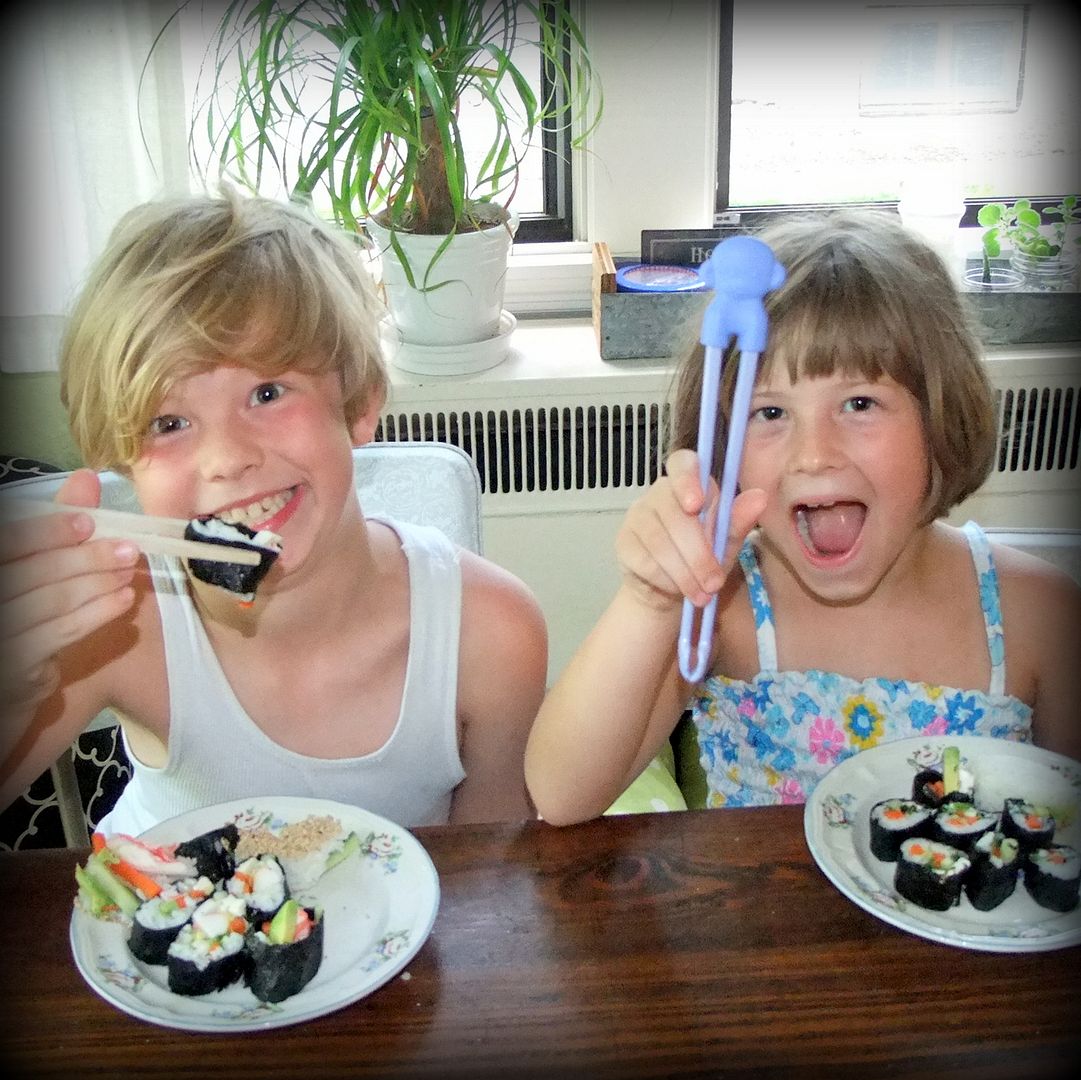 xo,
megan bird