I love to bake and I do it a lot. I enjoy coming up with new recipes and trying out interesting ingredients. I find it calming and it is something fun to do with the kids. Mimi especially loves to help. Lately, if I have some time and I know we have a showing later, I will bake some cookies or bars to make the house smell yummy. If you walked into a house that you were thinking about buying and it smelled like freshly baked goodness, wouldn't you want to buy it that much more? I like to think it helps. Anyway, my problem is that I don't really eat the baked goods. I mean, I will but, if given the choice, I will pick salty or savory over sweet any day of the week. My kids love them, of course, but I am one of those strict moms that doesn't allow a ton of sweets in their diet. Just ask my dad. He will tell you. He yells at me about it all the time. (Grandpas be crazy.) Jim gets annoyed because he usually ends up eating most of what I bake. Ha! So, lately, I have been baking cookies and bars and giving them away to family or neighbors. Last night, I had a showing and basically invited myself and the kids to my parent's house for dinner. Since I seem to be doing that a lot lately (sorry Mom and Dad!), I decided to bake them up some bars as a thank you. They were pretty yummy and super easy, so I thought I'd share the recipe! Enjoy!
Ingredients
2 cups all purpose flour
1 tsp baking powder
1/4 tsp baking soda
1/4 tsp salt
3/4 cup unsalted butter, softened
1-1/2 cups brown sugar
2 eggs
2 tablespoons milk
1 tsp vanilla extract
1 bag mini chocolate chips
Instructions
~Heat oven to 350 degrees. Grease a 13x9x2-inch baking pan.
~ In a small bowl, stir together the flour, baking powder, baking soda, and salt. In a separate bowl, beat together the butter and brown sugar until fluffy. Add the eggs, milk, and vanilla and beat well. Slowly, add the flour mixture and beat until well incorporated. Stir in the mini chocolate chips. Spread the mixture into the prepared pan.
~ Bake for 30 minutes, until lightly browned. Cool in pan on a wire rack before cutting into bars. Makes about 2 dozen bars.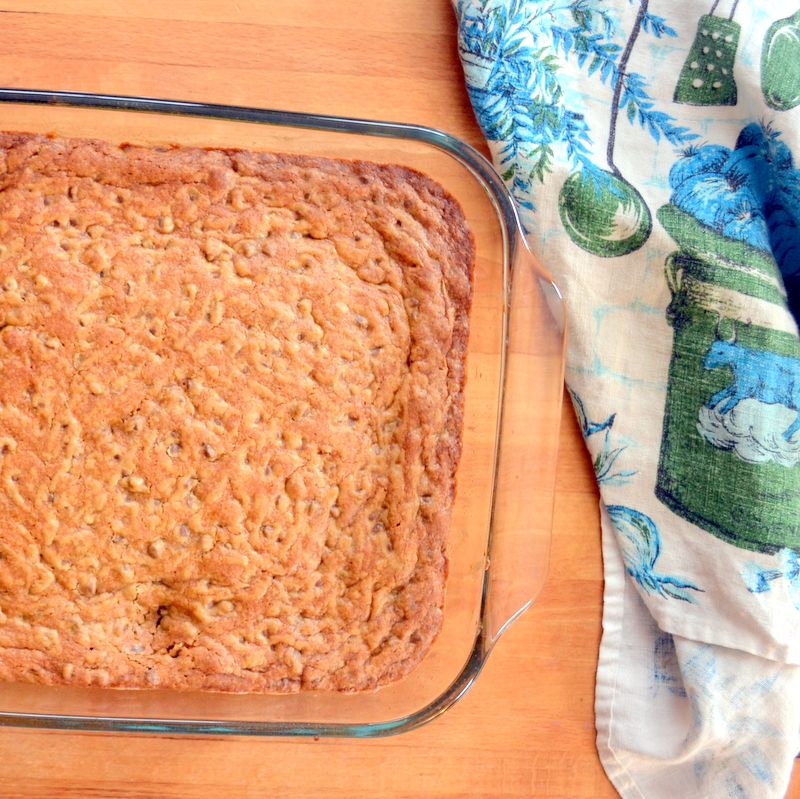 Do you enjoy baking? What's your favorite thing to make?
xoxo, nora bird