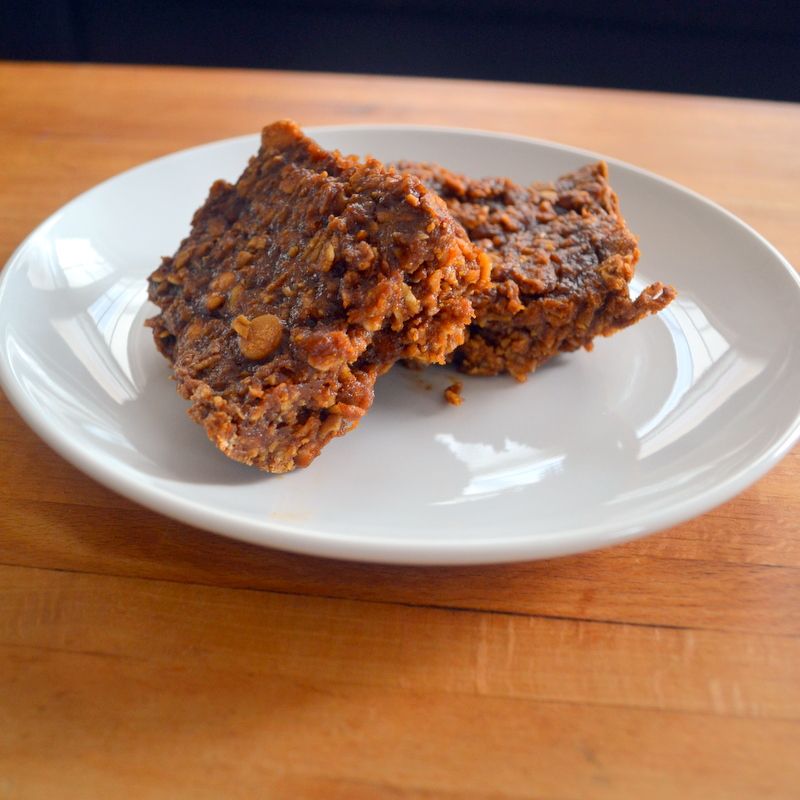 This weekend, my mom brought over a bunch of pumpkin she had
puréed and frozen
and I have been trying to come up with yummy ways to use it all up. These bars are definitely yummy and a huge hit with my kids. While Mimi was eating a bar the other day, I asked her what she thought we should call them and she decided they should be named "Peanut Butter Cinnamons", which is certainly an accurate description! So, if you would like to make your own Peanut Butter Cinnamons, you've come to the right place!
Ingredients:
1/2 cup peanut butter
1 cup pumpkin puree
2 cups whole rolled oats
1 cup brown sugar
1/2 cup granulated sugar
1 tsp nutmeg
2 tsp cinnamon
1 tsp vanilla
1/3 cup peanut butter chips (optional, but delicious)
Instructions:
Combine all ingredients in a large bowl and stir. Spread mixture into a foil lined and sprayed 8x8 pan and bake at 350 degrees for 25 minutes. Let cool and then place in the fridge to set for about an hour. Once they are completely cooled and set, slice, serve, and enjoy!
If you have a favorite pumpkin recipe, I would love to hear it!
Have a great day!
xoxo, nora bird