I am no vegan. I know I have mentioned my love of cheese more than once on this blog. But my friend Tracy sent me this recipe a few months ago and I finally got around to trying it and it was delicious. So good. I didn't miss the cheese or cream at all and, coming from a self-proclaimed cheese fanatic, that's huge. This recipe contains no dairy, no soy, and no fake cheese and it is still so creamy and "cheesy" and satisfying. The secret ingredient is a cashew cream. Okay, it's not so much a secret but it IS amazing. I guarantee you will love it! (Okay, I can't make any guarantees. If you try it and, for some reason, you don't love it, please don't sue two birds!)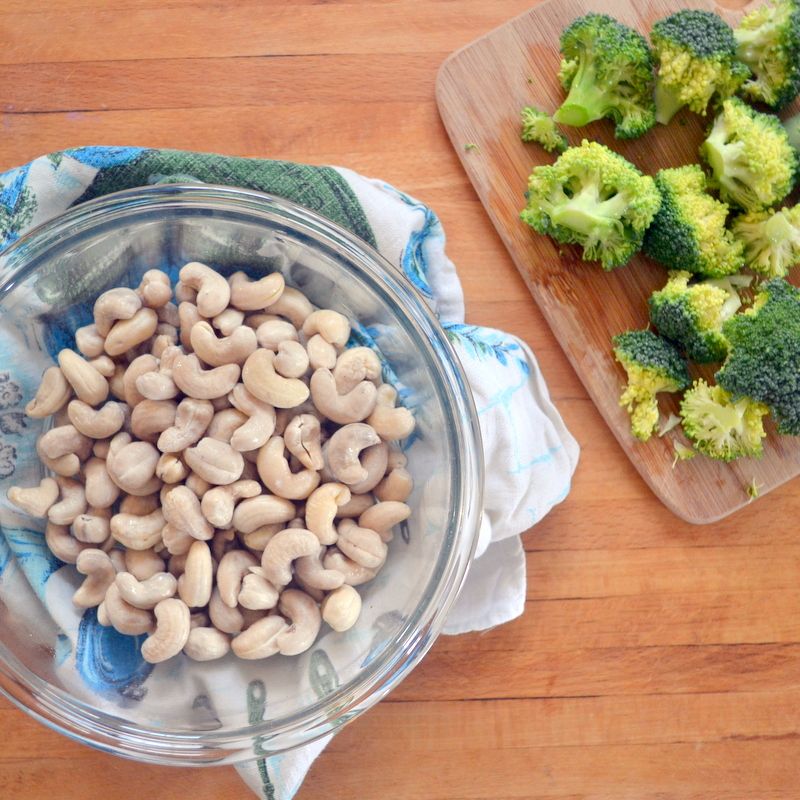 Ingredients for the soup:
~ 1 tbsp grapeseed oil
~ 1 small yellow onion, chopped
~ 1/2 tsp salt
~ 3 cloves garlic, minced
~ 4 cups broccoli, chopped
~ 1/2 cup carrots, chopped
~ 1/2 tsp turmeric
~ 3 cups vegetable broth
~ 2 tbsp fresh lemon juice
~ fresh ground pepper
Ingredients for the cashew cream:
~ 1 cup cashews, soaked for at least two hours
~ 2 cups vegetable broth
~ 3 tbsp mellow white miso
~ 2 tbsp nutritional yeast flakes
Instructions:
Heat the oil in a pot over medium heat. Add the onion and saute until softened. Add the garlic and saute for another 30 seconds. Add the broccoli, carrots, turmeric, salt, and broth, cover, and bring to a boil. Once boiling, lower the heat and simmer until the carrots are tender (about 10 minutes).
While the soup is simmering, prepare the cashew cream. Drain the cashews and place them in a blender with the broth, miso, and nutritional yeast. (Note: If you don't have/can't find nutritional yeast, you could substitute parmesan cheese. Of course, then your soup will not be vegan.) Blend until smooth. Now you have your cashew cream!
Once the carrots are tender, add the cashew cream to the soup. If you have an immersion blender, use that to puree the soup in the pot. If not (like me!) you can add your soup to your blender to puree. I pureed about half and left the rest as is, but you could definitely puree the whole pot if you like a more creamy consistency. In that case, I would do about half at a time, so as not to overflow your blender!
Once everything is pureed and back in the pot, heat on low for another 10 minutes, until thickened. Once thickened, add the lemon juice and pepper. Taste to see if it is seasoned to your liking (I added a bit more salt at this point), and serve. Preferably with some crusty bread!
Did I mention how good this soup was? Well, the leftovers were even better the next day for lunch!
Have you ever cooked with cashew cream?
xoxo, nora bird