Do you include toner in your skincare routine? I am a fairly recent convert. A few months ago, I decided it was time, and I began to research anti-aging skincare and products. I have started using rosewater as a toner on my face at night and I love it. It has many benefits, including anti-aging properties, and I love it for nighttime because it calms my skin and helps ease stress and anxiety. I recently decided to add toner to my daytime regimen, as well. I knew I wanted something natural and, preferably, something I could make myself. I did a bit of research and decided I'd really like to make something with peppermint essential oil. Peppermint oil is excellent at hydrating dull skin, improves oily skin conditions (so it's great for all skin types!), and can help prevent breakouts. I also find it cooling and awakening, so it's perfect for daytime. I made an extremely simple toner with peppermint oil, honey, apple cider vinegar, and water. That's it! Honey and apple cider vinegar also have amazing skin benefits. Honey exfoliates, improves circulation, and minimizes lines and wrinkles while apple cider vinegar softens skin, restores the skin's natural pH balance, and helps reduce redness. So, basically, three amazing, natural ingredients in one toner. And it is so easy to make. Yay!
Ingredients:
1 tablespoon honey (Use raw and local if you can! This is going on your skin, so you want high quality stuff.)
1 cup water + 1/3 cup warm water
1/4 cup apple cider vinegar
5 drops peppermint essential oil
Instructions:
Start by mixing the honey with the warm water until it dissolves. Once it is dissolved, stir in the rest of the water, the vinegar, and the essential oil. That's it! Then just bottle it up. I used a couple old toner bottles I had lying around (reduce, reuse, recycle!). I just cleaned them out, took off the labels, and made my very own, super awesome and creative label.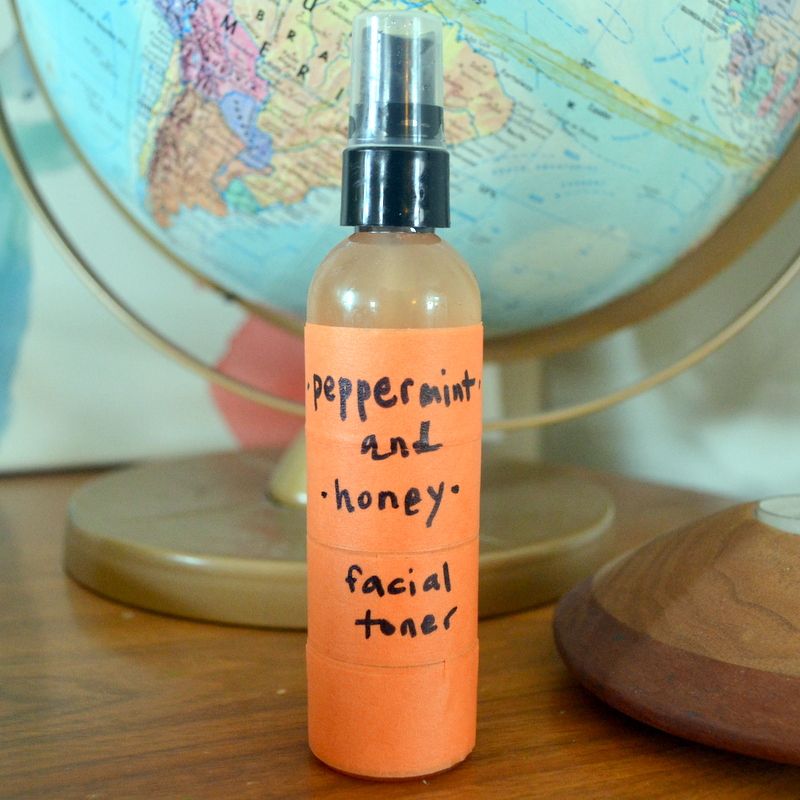 I should probably go into the label designing business, am I right???
The toner should last for several months, stored in a cool, dark place. To use the toner, just apply daily to a clean, dry face with a cotton ball.
Just in case you needed a visual.
Here I am in all my makeup-free glory! Eek! I just recently started using this toner but, if anyone is interested, I will happily share a side-by-side comparison photo in a few weeks. Just let me know in the comments!
xoxo, nora bird