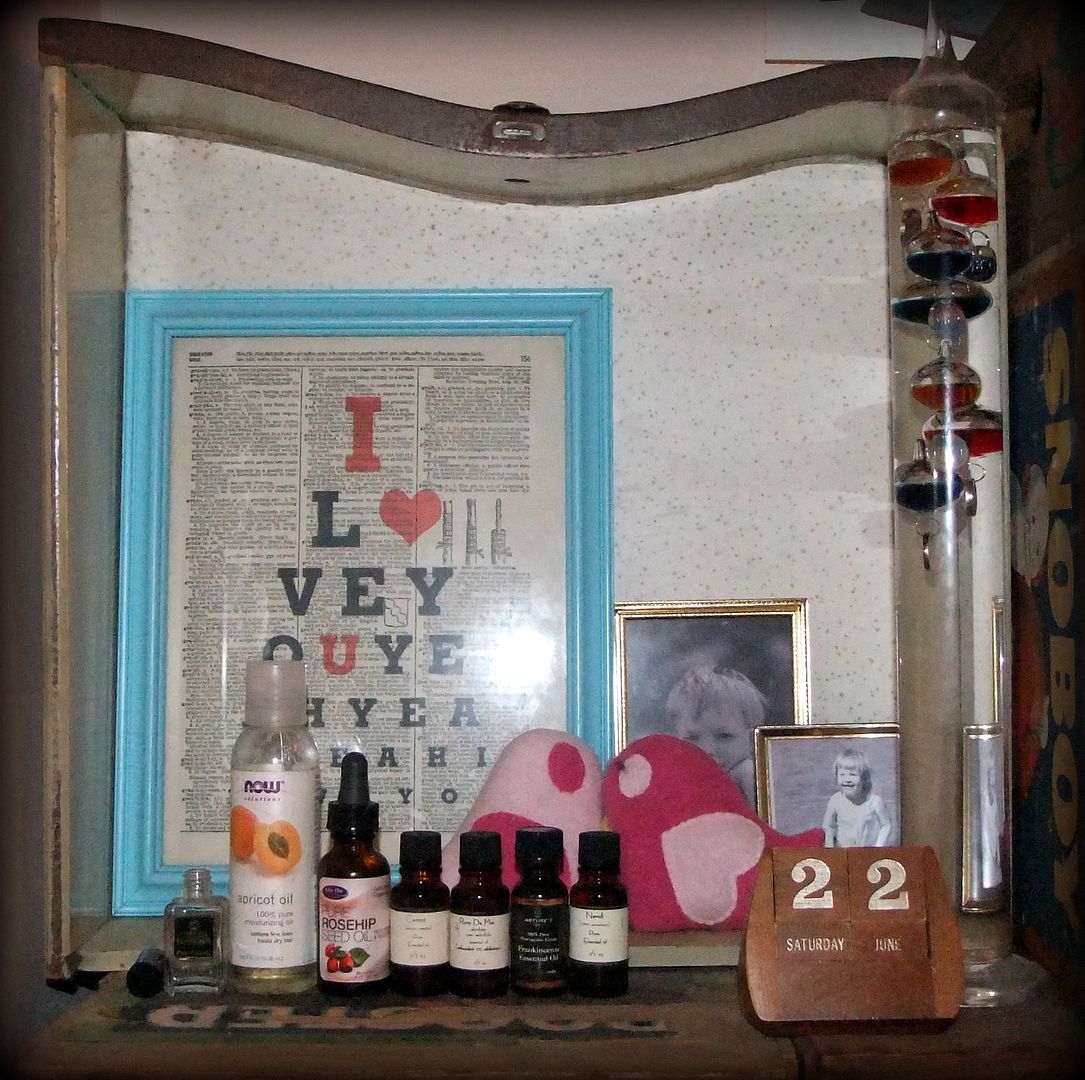 I know I talk about it a lot, but I love to make my own potions and lotions. I have a very odd tendency to find something I like, and then say, "I can make this myself." I do it with restaurant food, perfumes, lotions, and drinks. And similarly, when I see a beautiful item of clothing in an expensive catalog, I often thing, I can thrift something just like that with the right amount of patience and perseverance. I never buy anything full price, I make a lot of my own
artwork for the house
, and now, apparently, I make my own
hair products
and serums.
Yes, this means I have a linen closet full of oils and creams, but I don't mind. Because this way, I know what is going on my body, and to be honest, I think the stuff I make works just as great as the $100 per bottle products!
So I decided to make an anti-aging serum. I had a lot of the oils in my closet already, but I did need to buy a few new ones. In the long run, the price of my serum is pennies on the dollar to anything you will buy, even at Target!
Here's what you need to make your own (I buy my oils online from a place called Bulk Apothecary, they are very reasonable.)
~ 1 tablespoon
Apricot Kernel oil
~ 1/2 tablespoon Rosehip Seed oil
~
8 drops Frankincense
Essential oil
~
8 drops Rose de Mer
Essential oil
~
4 drops Neroli
Essential oil
~ 1 empty bottle (I recycled one I already owned)
Just mix together and carefully place into the clean bottle. And then apply under your night cream (or day, too). I apply this at night, but surprisingly, it's not greasy at all. I tried it during the day under my makeup, and it still worked wonders.
Here are the benefits of everything included:
~ Apricot oil helps skin maintain it's moisture balance, and has Vitamins A and E which help slow the signs of aging. It is also anti-inflammatory, and can sooth minor irritations.
~ Rosehip seed oil helps even out skin tone from UV damage, scarring, or just aging discoloration.
~ Carrot seed oil is rich in antioxidants and helps prevent skin damage. It even has a natural SPF (38-40), although I wouldn't count on it as a replacement for your daily SPF.
~ Frankincense oil tones and lifts skin and promotes regeneration of healthy cells.
~ Rose de Mer oil moisturizes dry skin and refines aging skin.
~ Neroli oil improves elasticity, stimulates new cell growth, softens wrinkles and scars, and helps relieve under eye circles.
So, having said all that, I will tell you what I don't love...the smell. I am not a fan of the smell of Frankincense, and I thought the Rose would counter that (and the Neroli), but it doesn't. But, I used this as a serum, and my night cream smells pretty great, so it was quickly covered. Chris, on the other hand, loved the smell, so it's all a matter of personal taste.

Also, immediately after I put it on my face, I flossed, and this serum doesn't taste great. Not at all. But that's an easy fix, just don't drink it.
All in all, I really love this stuff. This picture is just after my first application....and I will tell you that it's rare that I feel comfortable enough posting a picture of myself with no makeup on...but I am doing it now! Of course I put on my cutest nightie for the pic (but ignore the huge cut on my shoulder, maybe I'll tell you that story later)!
xo,
megan bird