When Jim and I got married (it'll be nine years ago in July!), one of our best friends gave us a recipe box filled with delicious recipes she had collected from her family and friends. It is something I have always cherished. Whenever I am in the mood to bake or if I can't figure out what I want to make for dinner, I will turn to that recipe box to try a new recipe or find one that has been tried-and-true. But my favorite part isn't the recipes. It is the note that she wrote to Jim and I that is the best part. And the fact that she typed out every recipe. Oh no, not on one of those newfangled computers that everyone is using these days. She typed them all out on a typewriter. A typewriter! That, and for so many other reason, is how I know she loves me.
So, I have adapted the banana bread recipe in this box and it has been my go-to banana bread recipe for a while. I have only changed the recipe slightly and it is seriously the most delicious banana bread. The only thing I changed is to sub out the 1/2 cup of shortening for 1/4 cup of applesauce. Any type of applesauce you like will do, but we REALLY love this local sauce, which is made with red hot candies. I know! SO good. It adds just the right hint of cinnamon and sweetness.
Here's the recipe. You can use the shortening, if you please. Or use my apple sauce substitute. Either way, it will be delicious!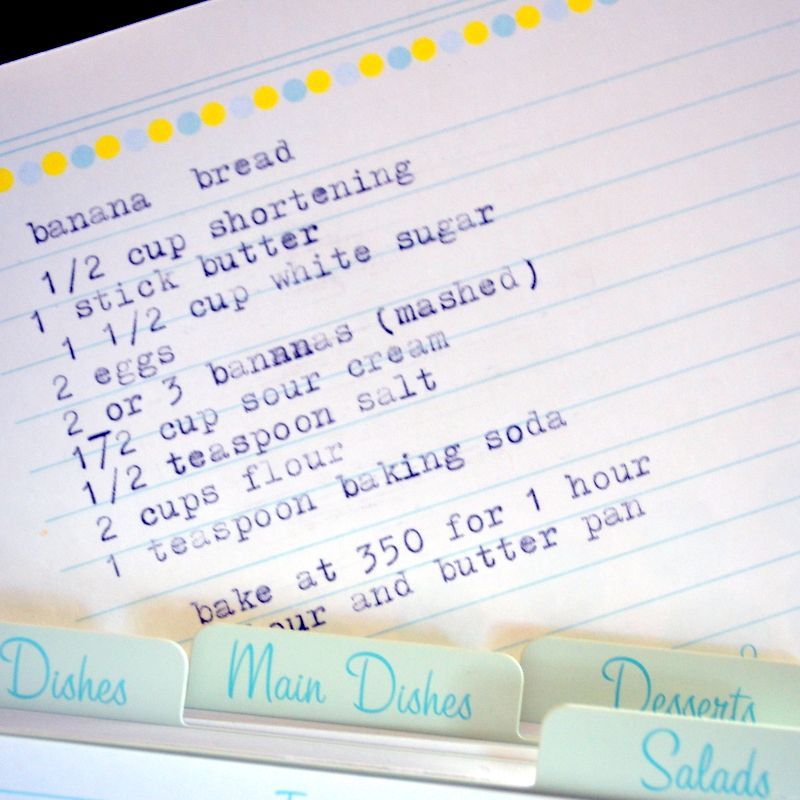 Instructions:
~ Preheat oven to 350 degrees.
~ Grease two loaf pans and set aside.
~ Mix the flour, salt, and baking soda together in a small bowl. Set aside.
~ Using a hand held mixer, beat the applesauce (or shortening), butter, and sugar together until combined.
~ Add the eggs, one at a time, and mix until fully combined. Then mix in the sour cream.
~ Mash the bananas (I used three very ripe bananas) with a fork.
~ Slowly mix the dry ingredients into the butter mixture.
~ Once everything is mixed, add the mashed bananas and mix until fully combined.
~ Add half the mixture to one loaf pan and half to the other. It should fill each pan about halfway.
~ Place both loaf pans on a large baking sheet (to avoid spillage) and place in the oven for one hour.
~ Remove from oven and let cool in the pans for about 30 minutes. Then remove from pans and let cool fully on a wire rack.
~ Serve with butter and enjoy!
If you have little hands around, this bread won't last long! Mimi and Ben love this stuff!
xoxo, nora bird
P.S. For all of you MN locals: don't forget about
The Great Minneapolis Blogger Sale
, happening tomorrow! It is going to be seriously awesome. We hope to see you there!!! xoxo.