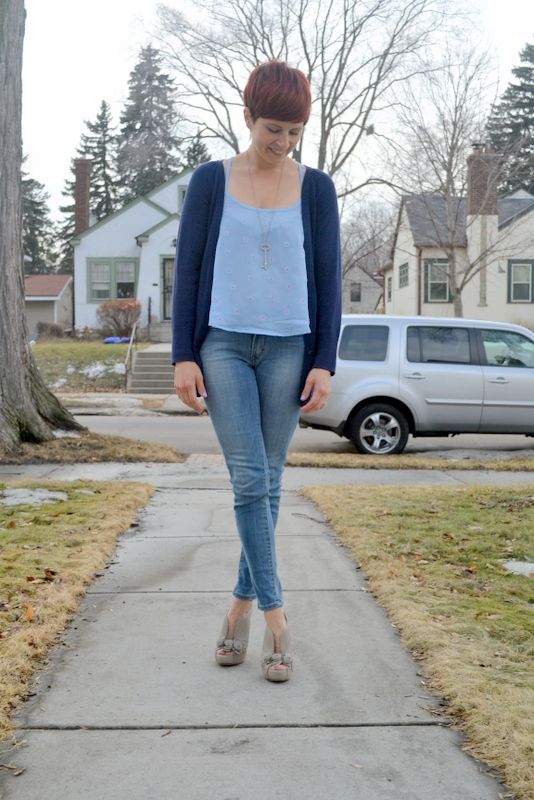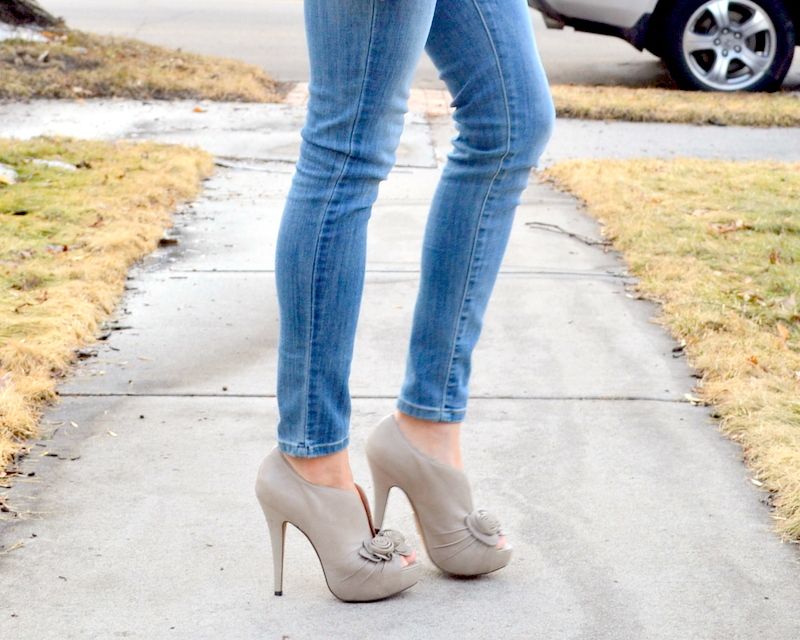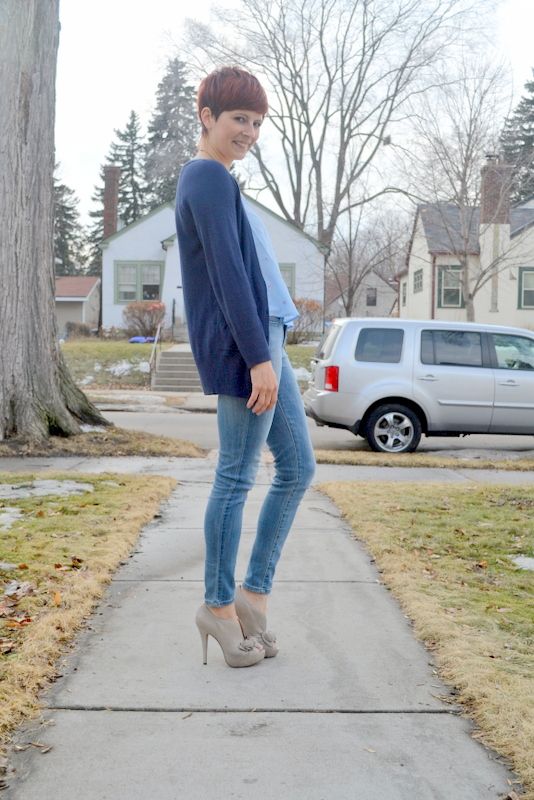 jeans (Levis) and shoes (Vince Camuto)~ b. (a resale shop)
necklace~ Etsy, gift from Jim
Remember
last week
, when Megan couldn't think of anything to write about so she just wrote some random facts about herself? Well, I am totally going to copy her today. Because I am her little sister and that's what we do. Also, because I was stuck inside all day with two kids recovering from two bad colds and my brain is fried. I got nothing. So, here goes...
~ After many childhood years of attempting to play basketball, softball, and volleyball, I finally realized that I should never play any sports with which a ball is involved.
~ My 7th grade volleyball team lost every single game. This was not entirely my fault. We were just all really really bad at volleyball.
~ When I entered high school, I joined the cross country running and cross country skiing teams and I never looked back. Individual sports, with no ball, are much more my thing.
~ I still love running to this day, although I have not skied since high school. I would love to start skiing again.
~ I love practicing yoga and hope to someday be certified to teach.
~ I still enjoy casually shooting hoops. Jim and I sometimes play HORSE. I sometimes almost never win.
~ Jim and I went out on our first date in May of 2002.
~ My car got towed during our first date.
~ It had already been towed and retrieved from the tow yard earlier that day.
~ I had bad luck with cars getting towed in May of 2002.
~ I didn't get my driver's license until I was twenty years old. I am pretty sure the only reason I passed the test was because the guy felt sorry for me.
~ At the time, in Minnesota, you could take your driver's test once with an expired learner's permit. Mine was three years expired.
~ Jim takes my photos for the blog and he always tries to make me laugh. He usually succeeds. (See that second photo up there? Yeah.)
~ I hate photos in which I'm laughing. I try to sometimes post them here anyway, because that's a dumb thing to hate.
And there you have it! Some completely random facts about me, myself, and I! That was actually kind of fun. I hope you enjoyed!
xoxo, nora bird