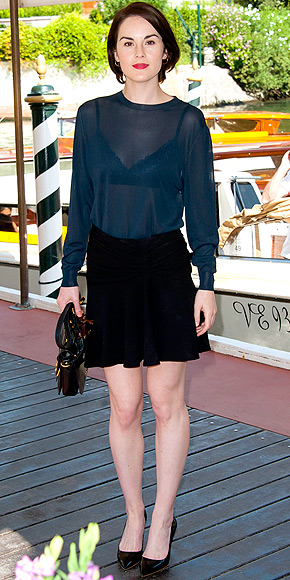 i'll admit it. i am a huge downtonian. who's with me? jim and i started watching
downton abbey
when the first season had already ended and was up on netflix. this is my favorite way to watch any television series because you can obsessively watch the episodes back to back to back to back...until you've wasted a whole afternoon watching an entire season of
downton abbey
and are suddenly in a state of minor depression because you now have to wait until the second season airs on tv, along with everybody else. herein lies the problem with watching tv shows on netflix. but then you watch season two, and when that ends you are sad it's over, but also so happy, because it was
the best ending to the season ever
! and then you impatiently wait until season three finally airs and you watch that...and it ends...and it's way too sad...and there's that dang depression again. damn you,
downton abbey
!!! but let's not talk about that. let's talk about
lady mary
michelle dockery's pretty outfit here. simple yet sexy. perfect for inspiration monday. we hope you play along on monday! not sure how? click
here
for the rules.
xoxo, two birds