the inspiration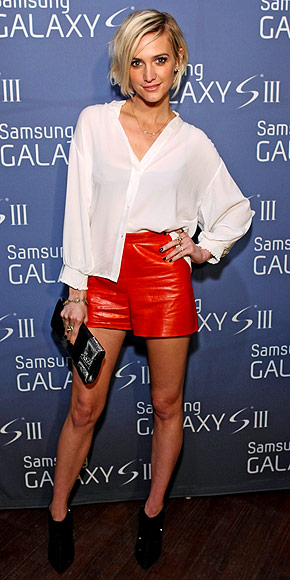 ashlee simpson
megan bird
shorts ~ garage sale
shirt ~ vintage, garage sale
booties ~ swap
watch ~ gift from sister
bracelet ~ two birds
necklace ~ Kohls
head scarf ~ Target
nora bird
dress~ thrifted
boots~ vintage, two birds
necklace~ i like you
headband~ F21
what with all this talk about baby on the way, i started thinking about my two birth stories. i promise i won't get all mooshy wooshy on you (i definitely could, but i won't)...but both of my kid's births were pretty funny. at least after the fact, because during...not much was funny. (except when i kept asking the nurse if i just pooped. cause that's always funny!)
henry was a late baby. he was almost 42 weeks. my doctor is a total hippie (which i love), and really didn't want me to be induced, so, we kept waiting and waiting. i got bigger and bigger. and finally, he told us that i could be induced. the doc told us to call the hospital first thing in the morning on april 1 (yep...april fools!). so i called at 5 am and they told me that there was no room. i was heartbroken. here i was, huge and ready, and we had prepared ourselves that "today was the day"...and they said no. so we waited three hours, and called back again (sneaky), and there was an opening. they told us to run, not walk, to the hospital, so we did. and when we got there, there was another pregnant couple, sauntering in at the same time. it was like an episode of the amazing race. we took the stairs instead of the elevator and made it there first. phew!
we got situated and the doctors pumped me up with pitocin. and then we waited, and waited, and waited. i had contractions the whole day long, but nothing was happening. apparently i created too cozy of a space for hen, he didn't want to come out. so when the evening fell, they pumped me with morphine, and i had the best night's sleep i have ever had...and probably ever will.
the next morning (today is the day!), they started me on pitocin again and came in with a two-foot long knitting needle. alas, my water broke, and about 15 minutes later i was in hard labor. i very calmly asked for an epidural and then had to wait about an hour for the anesthesiologist to show up. by then i was writhing in pain. he tried to poke me, said he did, and then was on his way. but, every fifteen minutes, i would ask the nurse when the drugs would kick in. she kept saying soon. they never did*.
ok, at the point when they told me i could start pushing, i had these romantic dreams that he would be out in 15 minutes. after all, that's how it worked with my older sister, so why not me? yeah, why not me? nope, i pushed and pushed....and pushed. at one point i was on my hands and knees. at one point i had both my mom and my mother-in-law holding each of my legs over my head (that's not embarrassing at all) (that's probably also when i pooped...i will never know). and at many points, i looked at chris and told him i couldn't do this anymore. at no point, however, did i scream or yell at anyone. i am still very proud of myself for being calm.
(sorry this is so long, i'm almost done.)
it turned out that henry was in the posterior position, meaning his nose was facing up. this isn't the best way to deliver a baby. it also turned out that the cord was both wrapped around his neck and under his armpit...but we didn't know that until late in the game. at one point, they had to screw a small heart monitor into his head to make sure he was ok. (yes, they kept telling me, "i can see the head, he's almost here!) (after hearing that for 2.5 hours, i stopped believing them.) soon, my room was full of doctors. literally about 10 of them. i don't know why. i guess i was on the short list for a c-section. but then one of the doctors decided to suction the poor thing out. so they got the cord situation under control, grabbed some scissors and a suction, and vacuumed my sweet sweet baby out.
when you read most birth stories, you hear about how the mother fell instantly in love as soon as the baby was placed on her chest. of course that happened to me – although i was instantly in love the minute i found out i was pregnant. but to be honest, my very first thought when they laid him on my chest was, "he looks like E.T., will his head always be shaped like that?" and i think i even said that out loud, because a nurse immediately ran over and topped him off with a cute little cap...and his poor suctioned head was hidden from the world.
and that my friends, is the story of when my first born came into our world to brighten all of our days. as it turns out, henry is very laid back and relaxed, which is why it took him so long to come out. i will also tell you about eva's birth in another post...and i will let you know right now that she wants what she wants and she wants it right now.
* the nurse told me after the fact that they stopped my drugs because they were afraid i wouldn't be able to push him out. they didn't want to tell me during for fear that i would freak out.
happy monday, all!
xoxo,
two birds