the inspiration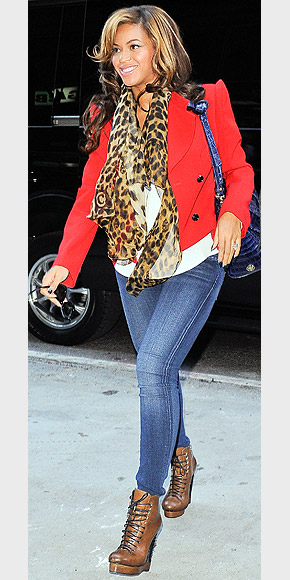 beyonce
i get a little lazy in the winter. and by lazy, i mean i pretty much stop shaving my legs, painting my toenails...stuff that will only be seen by me and chris kind of gets the shaft (get your mind out of the gutters, people). so, as i found myself in the shower on friday morning, i had kind of a chuckle as i shaved, painted, lotioned and primped just about all of my body. ok, i didn't paint (or shave) all of my body, but you get the idea. and do you want to know why i did all of this? hot date night you ask? nope...i had a doctor's appointment.


is it sad that sometimes i primp more for my doctor than i do for chris? he sees me every day. and he loves me no matter what. my doctor sees me once a year...i don't want her to think i'm a big hairy mess. are you with me, ladies? does anyone else do this, or is it just me?
jeans, scarf ~ H&M
boots ~ Urban Original
tank, earrings ~ F21
blazer ~ vintage (from nora)
ring ~ Patina
bracelet ~ vintage, thrifted
and on a side note, does anyone else have any weird, irrational fears when it comes to your annual exam?
nora bird
i am always afraid that they will open the door before i'm fully undressed ~ that they will walk in while i'm in just a pair of socks or something...standing there like a naked, sock-wearing deer in the headlights.
blazer~ vintage
scarf/jeggings~ H&M
shirt~ Old Navy
boots~ Heartbreaker
headband~ Target
so now that i'm all primped, i am ready for valentine's day tomorrow...maybe i should plan ahead like this every year, because really, who ever shaves their legs more than twice in the winter???
happy monday!
xo,
two birds