megan is out of town enjoying some quality time with her man and kiddos this week, so she left it up to me to pick the inspiration picture for next week. i chose emily blunt because she is adorable and i love this chic, casual outfit she is sporting. she is also married to one of my boyfriends,
john krasinski
(i am also seeing ryan gosling and johnny depp at the moment. it's okay, my husband knows. even he has a crush on mr. gosling.), which makes me like her even more. i would totally get beers with emily and john (that's right, we are now on a first name basis). i bet they are just the cutest, funniest couple to hang out with. and i just know we would be fast friends. anyway, i hope you like the outfit!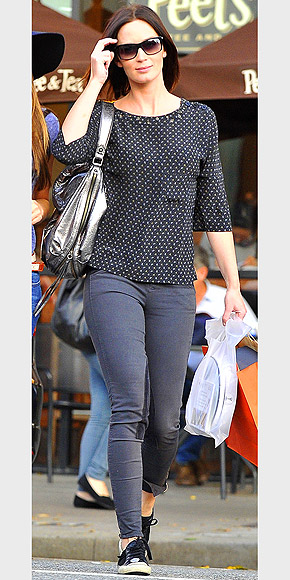 we hope you join us on monday! trust us, it's super fun! don't know how to play? click
here
for the rules.
xoxo, two birds