the inspiration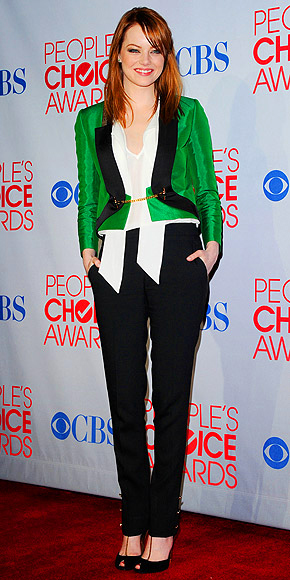 emma stone
i subscribe to pretty much every coupon site there is. if i am not subscribed to it, that just means i don't know about it yet. you just never know when the perfect gift idea (for yourself or someone else) will pop up in a groupon. for instance, one came to my email today for a world war II experience...you get to drive a tank and shoot a ww2 machine gun, all for $219. while i have absolutely no interest in that, i knew it would be something that my brother-in-law would be interested in, so i passed it on. ok, maybe it might be fun to drive a tank. i would scream obscenities while doing it, pretending i'm bruce willis in any die hard movie. "YIPPEE KAY AY MOTHER F$%#@R!!" yeah, it's probably best i don't cash in on that groupon.
megan bird
pants ~ F21
shirt ~ Old Navy, thrifted
coat ~ thrifted
shoes ~ Bakers
necklace ~ thrifted
belt ~ thrifted
another one of the coupons that came to my inbox the other day was for an
electric martini maker
. there is still time to buy it if you feel so inclined. it is a mere $39. but really, how lazy do you have to be to need a machine to make you a martini. the basics of making a martini are putting two kinds of liquor into a cup and shaking (or stirring) it for about 30 seconds. and if you have had at least eight hours of sleep, maybe you'll even have enough energy to throw an olive in the cup, too. seriously, it's a bit ridiculous. but i bet donald trump has an electric martini maker. or mrs. spelling. in fact, i bet mrs. spelling has a whole room dedicated to making martinis, maybe two.
nora bird
blazer ~ vintage, thrifted
short ~ old navy
jeans ~ 15dollarstore.com
shoes ~ F21
join in on the fun below if you want. or buy yourself an electric martini maker, and sit back, relax and let the machine do all the hard work for you.
yippee kay ay martini makers!
xoxo,
two birds