the inspiration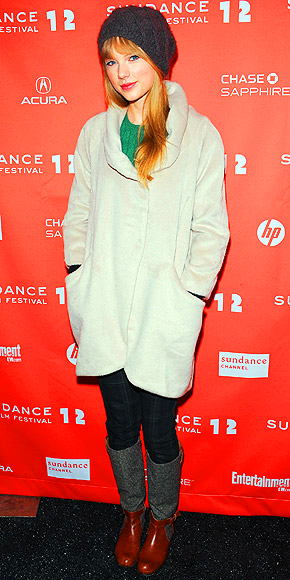 taylor swift
back in the day, i used to have a standing date with two of my closest friends, jamie and aaron. i lived in this old garden-level apartment, full of used couches, mismatched thrift store tables and an always-empty fridge. jamie and erin would come over almost every week, i would usually make a huge pan of lasagna, and we would rotate who brought the wine.
megan bird
when aaron brought the wine, he would always bring those huge boxes of franzia...cause we were super fancy like that. he would bring a different kind each week, but it was always full of sugar and gave us the worst headaches the next day. of course, one of those boxes is like four bottles, and we would usually finish them off by the end of the night (along with the whole pan of lasagna).
jeans, tank, socks ~ Target
sweater ~ vintage, thrifted
hat ~ hand-me-down from nora bird
one night he brought a new kind that we had never seen before. now franzia was never fancy in naming their wines. they were always named, "white rhine wine" or "red table wine". i mean, they weren't even a merlot or chardonnay, they were just named after the color. so when he brought this new one, we were all surprised that they had given it such a "fancy" name. "oooh!" i exclaimed when i saw it, excited about this fancy new boxed wine with the fancy name..and i pronounced it:
"shil-ah-blay".
nora bird
we continued to drink and eat. and drink and eat. and drink. and as we got more and more drunk, i looked at the box and realized that it wasn't a fancy name after all.
sweater vest, tunic ~ swap
jeans, striped cardi ~ F21
boots ~ vintage, thrifted
nope, it wasn't fancy at all (we should have known...it was franzia). nope, what we were drinking was called, "chillable red wine". and it took us all of four hours and a half a box of wine to figure that out.
cheers to monday!
xo,
two birds