the inspiration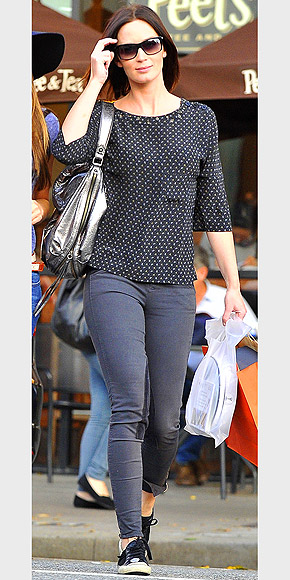 emily blunt
do you ever dream movies? i do all the time. and when i wake up from a particularly good one, i always try to write it down because in my state of half-asleepedness, i think that this is the one that will win me the academy award.
i did this last night. i was in a deep sleep, dreaming the most amazing movie. it was entertaining...it made me laugh and cry and i felt good about myself while "watching" it. then i woke up and scrambled for something to write with. i just knew at 3:54 am that this was it. i had finally dreamed a movie that could be an actual movie. i couldn't find a pen, so i grabbed my phone and started typing out an email to myself about this movie. this award winning movie...
until i realized what i had just dreamed. it was "
the reader
", the musical. (hey, i didn't say i was always a rational thinker at 3:54 am.) now, i have never actually seen the movie "the reader", i have only read the book. but i'm assuming that, like the book, the movie is not meant to be a musical. (for those of you who have neither seen the movie nor read the book, it is about a boy who grows up to have an affair with a woman who turns out to be a nazi war criminal.)
but hey, maybe i'll write that screenplay anyways. i mean, it worked out for gene wilder and zero mostel, didn't it? (if you don't get this reference, then search "the producers" on netflix and watch it. just make sure it's the 1968 version.)
megan bird
shirt, jeggings, shoes ~ Target (this is not a Target-sponsored post...but Target, if you're reading, we would be happy to take you on!)
earrings ~ F21
watch necklace, sunglasses ~ Heartbreaker
nora bird
shirt~ hand-me-down from mom
tank~ Marshalls
necklace~ gift from my mother-in-law
bracelet~ gift from bestie Sally
jeans~ 15dollarstore.com
shoes~ thrifted
first of all, i'd like to thank the academy. i was just a small-time blogger who had a dream. and look where it has taken me. mom and dad, thank you for giving me the creativity and the courage to believe in myself. chris, thank you for always being there for me and for not laughing at my ideas, even when you should have. who knew that one day, one of my actual dreams would become a reality. if i can do it, anyone can. thank you! i love you henry and eva!
(so what if i've already written the acceptance speech. you just never know, do you?) now...who will i wear?
xoxo,
two birds
<