well, we did it. we went to see the thunder from down under. i mentioned a while
back
that we were thinking of going, and we did it. and i am not unhappy about that decision. nora,
erin
, my friend theresa and i all hopped in the car and made the short road trip to the medina show room to see a group of
half
mostly naked aussie men dance (very badly i might add) to hits of the 90s. seriously, i haven't laughed so hard in a long time. i'm pretty sure the intention of their shows is not meant to be comical, but for real, there is no way you can take these guys seriously. i mean, at one point, they all came out dressed like gangsters from the 20s, and they shot their pants off with fake guns. shot.their.pants.off. you didn't read that wrong.
today's inspiration is pippa middleton. i love her outfit. it's casual and cute and she mixes fun textures, colors and patterns.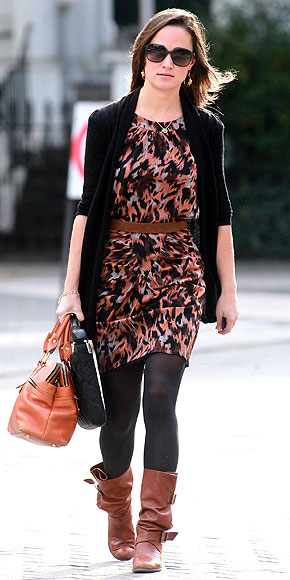 megan bird
dress ~ F21
tights ~ Target (thrifted new)
boots ~ thrifted
belt ~ thrifted
sweater ~ Kohls
earrings ~ F21
nora bird
dress- H&M
sweater- Marshalls
tights- Target
necklace- F21
boots- Alloy
mimi's outfit- entirely thrifted
and don't forget, today is the last day of the petite oiseau bakelite jewelry
giveaway
! we will be choosing a winner this afternoon!
happy monday, all!! link up below to join in on the fun!
xoxo,
two birds