we went camping this weekend. we have gotten quite a bit of mileage on the ol' scamp over the summer. we figure this was probably our last hurrah until next summer (but you never know). we went to northern wisconsin, right off of lake superior. it was a gorgeous weekend, and we had the best time. i knew the weather was supposed to be pretty nice, but i also knew that you never know when you're that far north. so, i packed hats, sweatshirts, extra blankets, etc. however, i did not quite think about the logistics of sleeping. i accidentally signed up up for a non-electrical spot, so we only had the generator in the scamp, which is only good when you need lights and a very not-cool refrigerator (not cool, refrigerator, not cool). night number one decided to dip below freezing. and here we were in a scamp, freezing our butts off. chris and i were scared that the kids would get too cold, so we pulled them into bed with us, like a kid sandwich (parents are the bread!). keep in mind that this bed doubles as a kitchen table in its spare time. it's no luxury waterbed or anything super fancy like that. it's a table with cushions on top of it, and it's full sized. so we had four people, two blankets (why we didn't pull more blankets over, i don't know...oh wait, i do....no one wanted to get out of the heat of the bed to grab more ~ even if it meant warmth), a full-size table/bed and one snuggly family. oh, and did i mention we all slept with winter hats on? mine was a beret, so i was sleeping in style.
night number two, we bought a inside-safe propane heater, but i was too scared to leave it running (i didn't want my dogs tail to start on fire), so chris was a super genius and threw some boulders into the fire and brought them inside with us when we went to bed. instant scamp sauna. scauna, if you will. we stayed warm all night long!
this week's inspiration was a choose your own adventure. and nora and i chose two different ones (turn to page 49 if you choose nora, and turn to page 22 if you choose megan). i went with audrina's casual look, while nora opted for cat's cool-cat look (meow).
megan bird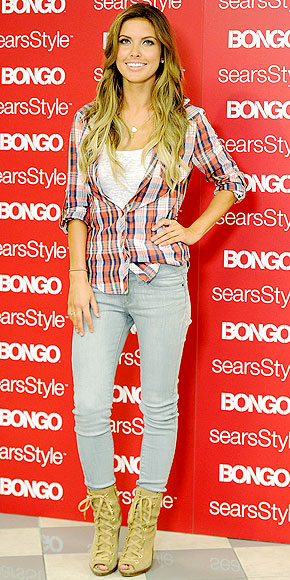 flannel ~ vintage, thrifted
tank ~ Target, thrifted
jeggings ~ H&M
booties ~ Nordstrom Rack
belt ~ vintage, thrifted
earrings ~ F21
nora bird
blazer ~ J Crew, swap
shirt ~ Banana Republic, swap
jeans ~ F21
scarf ~ gift from mom
shoes ~ F21
necklace ~ gift from l'il sis, izzy
xoxo,
megan bird


PS do you love the oversized crocheted scarf trend? don't forget to sign up for our giveaway to win one, along with an adorable vintage necklace and purse!!! click
here
to enter!