a few weeks ago, we went on a
scamp vacation
to northern minnesota and wisconsin. it's about a three-hour drive from our house and we didn't get out the door until about 6:00 pm. of course, we needed to stop for gas and food, so we didn't get to our destination until about 10:00. being that our camp site was in the middle of a state park, it was pitch dark with barely a single street light on. this is perfect when you're camping, but not when you are driving to your site. so chris was forced to use his phone's navigation system. the polite female phone voice kept telling us when we needed to take a left or a right, and we were scooting along our merry way. however, when she finally said, "take a right and you are at your destination", we were a little wary. luckily chris was being more vigilant than i because when we took that final right, immediately in front of us was a deep (deep, deep, deep) rock quarry - no fence, no sign, no nothing. chris slammed on the brakes and we looked at each other, as the kids slept in the back seat, and quietly whispered thank you that chris was driving very cautiously. evil, evil navigation system. i expected that polite female voice to belt out a "mwa-ha-ha-ha!"
the inspiration for this week is sarah jessica parker. i don't believe we have used her before, which is a little surprising to me. not only does she always look flawless on screen, she also rocks it in real life!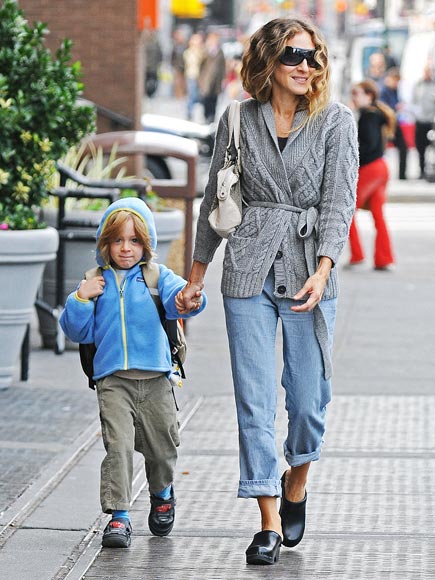 i have been craving oversized sweaters and was secretly hoping this one wouldn't sell at our sale this weekend, because i wanted it and i knew it would be perfect for today's inspiration!
megan bird
jeans ~ old...from macy's back when it used to be dayton's
sweater ~ vintage, two birds
booties ~ vintage, thrifted
earrings ~ F21
nora bird
sweater ~ Mossimo, thrifted
shirt ~ Old Navy
jeans ~ Citizens of Humanity, thrifted
shoes ~ F21
necklace ~ i like you
happy monday, all! please make sure to click

here

for a chance to enter our $40 vintage giveaway! it's a really great one!!
xoxo,
two birds