chris and i have always tried to be as open and honest with our kids as possible. when they ask a question, i will answer is the best way i can. so far, i have never had any issue. however, i started a conversation the other day that left me at a loss for words.
here's how it went:
h: mama, i know what nuts are, they're your privates.
me: well, actually, that is another word for your testicles, not your penis.
h: oh really?
e: mama, do i have nuts?
me: nope.
e: well what do i have then?
me: a vagina.
e: that's all? (these days, eva thinks everything between she and henry needs to be equal.)
me: well, inside you, you also have ovaries. when you get older, they will help you make babies.
h: do i have anything that will help make babies?
me: actually, yes. that is why you have testicles. they carry what you need to make babies.
h: well how do i get it out of my testicles?
and that's when the conversation ended. that will be a conversation for a later date...with papa.
and onto today's inspiration. jaime king in her beautiful red pants and floral shirt. if i had red pants, i'd be wearing them today, but alas i don't. so i took my inspiration instead from the silhouette. some day soon (hopefully), i will find my perfect pair of red pants!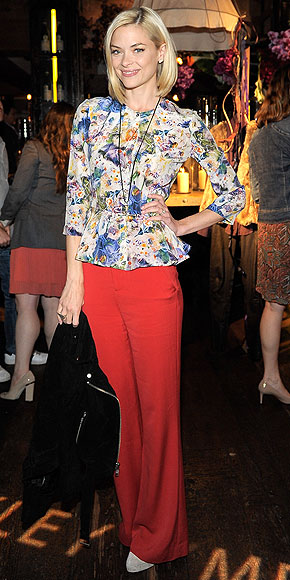 megan bird
jeans ~ thrifted
shirt ~ Banana Republic, thrifted
shoes ~ F21
earrings ~ F21
nora bird
since you can't see the shoes, i had to include a close-up (because i love them so).
pants- Rock Steady, Saint Sabrina's (years and years ago)
shirt/tank/shoes- F21 (that's slightly embarrassing)
belt- thrifted
xoxo, two birds