i went to yet another church festival this weekend. chris took the kids on saturday while nora and i worked on some two birds stuff. they had a blast...eva even won $25 at bingo! i guess she screamed "bingo!" as loudly as she could, she was so excited. saturday night, a friend of ours came over and she, chris and i went back to the festival as an old band that we used to listen to back in college was performing. we had a ton of fun, lots of beers and acted like we were in college again.
while we were at the concert, there was a man who kept looking at us. he was with a woman, and we were all guessing whether they were on a first date or married. theresa thought he looked familiar, and we all thought it was odd that he kept looking at us. we finally deduced that he was interested in theresa ~ forget the woman he was with. the band took a break and the man came over to talk to us. he and theresa both said they each looked familiar, and we continued assuming he was interested in her. well, as the conversation ensued, he began more and more to talk to chris. we all talked for about 10 minutes, and by about minute seven, i realized that it wasn't theresa he was interested in, it was chris. as we all continued to talk, it came up in conversation that chris and i were together. the man immediately looked at me and said, "he's your boyfriend?" yes. "wait,
your
boyfriend?" yes. "oh. huh. oh. well, i'm going to go get another beer, i'll be right back." he never came back.
today's inspiration is the beautiful ali larter. she workin' the 70s vibe with her cute jeans and sequined top.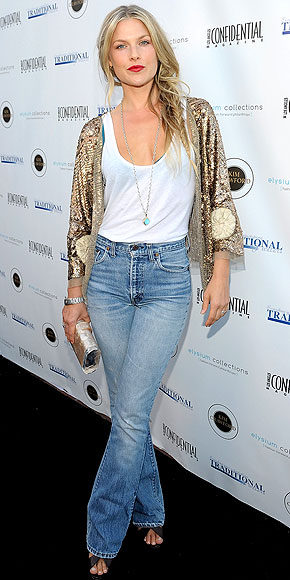 and here are our takes.
megan bird
sweater ~ Target thrifted
jeans ~ vintage calvin klein, thrifted
tank & earrings ~ F21
shoes ~ Marshalls
necklace ~ thrifted
nora bird
shall/cardigan thingy ~ Shiba, thrifted
shirt ~ Old Navy
jeans ~ William Rast, thrifted
shoes ~ Target
ring ~ gift from jim
happy monday! did anyone hit on your husband this weekend?
xoxo,
megan bird