my son starts school again today. he's a big time first grader now. it's so crazy how time flies. i took friday off to spend some time with the kids and to set the sale up. we ended up going to this amazing place called skyzone. it's a huge warehouse filled with trampolines. and it's a-mazing. we jumped for 2 1/2 hours and it was so fun (and a great workout to boot). however, i realized that women who have had kids are not meant to jump on trampolines for 2 1/2 hours. it was so fun, i peed my pants (for real).
on the way home, my son turned to me and said, "mama, i think i figured it out. you can take all of your days off. and me, i can do this thing i heard about on the radio. you can take all your days off and i can go to online school. then we can spend as much time together as we want." cue my heart melting.
on to the inspiration. a fan favorite (or maybe just a bird favorite), olivia wilde. i just love her edgy feminine look.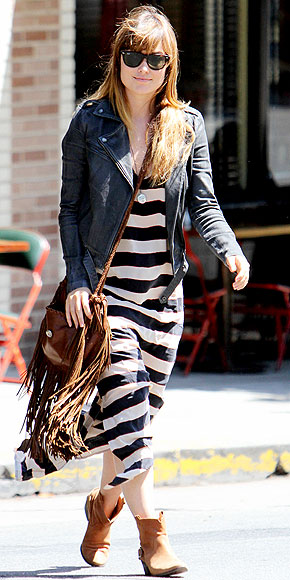 megan bird
i love this dress for it's fluttery sleeves.
dress ~ two birds (yep, we shopped our own store this weekend!)
shoes, jacket ~ Target
earrings ~ F21
ring ~ Heartbreaker (another sister ring)
nora bird
jacket- Xhilaration, Salvation Army
shirt- Julie's Closet, hand-me-down
skirt- F21
booties- vintage, thrifted
necklace- Marc by Marc Jacobs, gift
rings- grandma's, H&M
happy monday, all!
xoxo,
two birds