i had the best time yesterday. amanda and i went to an arc 50% off sale (a local thrift store near my house) and i got so many goodies! then we went to the best blogger meet-up! i met some of the most amazingly fashionable ladies and had such a great time. it was in the cutest barn, owned by lori of
girly muse
...and it actually had a bridge to connect the barn and her house. seriously, who doesn't want a bridge in their house? unfortunately, nora wasn't able to make it, but the next time we all get together, i hope she will get a chance to meet all of the fabulous ladies i met. more on the party later...
when i got home, i went straight to bed. i have been so tired lately, that it was nice to just lay in bed and relax. i actually was asleep by 8:30...until chris got home. he had been at a golf tournament all day, followed by a dinner and drinks. apparently a few drinks. he and his friend showed up at about midnight, and both came upstairs laughing and singing, at the top of their lungs. this is the conversation that followed (because at this point, i am wide awake).
joby (chris' friend): i had the
best
night. seriously, it was so fun. and day, too. the whole day was so fun.
chris: i know, man. the funnest day and night!
joby: seriously, that was the
most
fun i've had in a long time. what a great day.
chris: i know, man, so fun!
joby: i love you, bro!
chris: i love you too, man.
joby: if you wake up and i'm gone, just know that i had a really good time.
chris: goodnight, bro. love you.
and then chris walked into our room speaking some mix of french and spanish. "parlaix vious francais? cual es tu problema?" and then he promptly fell asleep. all i could do was laugh...
and now, onto the inspiration for today. the always-lovely heidi klum. she's rocking the casual skinnies and cute top. gotta love this outfit.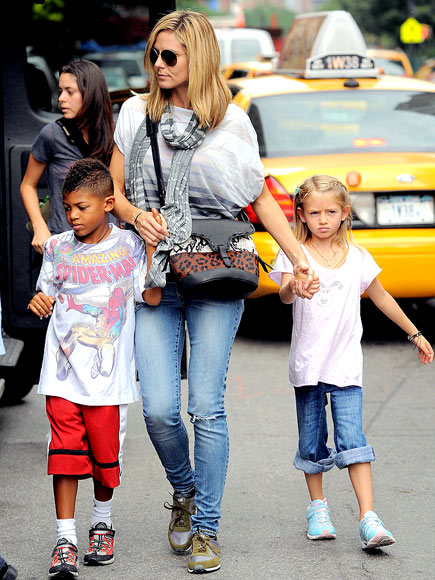 and my take (unlike nora, i will most likely not be seen in flats on this blog)
megan bird
and check out the new sunglasses i got for $1.50!
jeans ~ target
shoes ~ bcbg, thrifted
cardi ~ thrifted
necklaces, etsy, H&M, F21
earrings ~ F21
sunglasses ~ vintage, thrifted
scarf ~ vintage, thrifted
nora bird
hi, friends. i am so so so sad that i missed the blogger get together. megan told me all about it and said it was tons of fun and that all the ladies were amazing! however, my weekend was quite fun as well. it was my and the hubby's 6-year wedding anniversary on saturday so we stole away up to a cottage in northern wisconsin with mimi some of our very dear friends. swimming, eating, boating, waterskiing, drinking, board gaming and lots of laughs. we had a blast and i will be sharing some pictures later on. i do really hope there will be another minnesota blogger party soon, though. i totally missed out!
oh, right! the outfit...i love heidi's loose, comfy and casual ensemble. and here is my take...
shirt- hand-me-down from megan, of course!
jeans- F21
shoes- Charles Albert, Delias
necklace- vintage, Rewind NE
sunglasses, vintage- Rewind NE
happy monday, all!!
xoxo,
two birds