to all of you in the u.s. of a., happy independence day! i hope you are celebrating this long weekend in style! to those in canada, happy (late) canada day, and a happy long weekend to you, as well. to those of you outside america and canada, happy monday!! while your weekend might not have been a long one, i still hope it was wonderful!
i did plenty of thrifting this weekend. and i had two funny experiences that make thrifting even more exciting. or at least they make for a decent story after the fact. the first story is kind of dumb, but it made me laugh. i was shopping, and had a cart full of clothes and shoes. i went to the changing room to try on my stack of clothes and left the cart outside my room, shoes still in it. when i got back out, the shoes were still in the cart (in the exact same position as i left them), yet there was also a ton of romance novels and two large bags of silverware. i asked a man who worked there if he by chance put these items in my cart. he replied no....and at the same time, a woman walked over and very matter of factly said, "this is my cart." "oh," said i, "that's odd because my shoes are in this cart." "nope...my cart" she said. "well, did you put your things in my here while the shoes were already in here?" "no!" "well why are my shoes in your cart?" (in the
exact
same position, remember) "no clue. but this is my cart." at this point i laughed, grabbed my beloved shoes and walked away.
the other story is
way
better. i was in line to pay at another store, and a woman walks up with one of those lawn chairs that comes in a bag. she walks right up to the counter and says, "yeah, i bought this chair about an hour ago, and the bag was just full of bricks and some drugs." funny enough, right? but even funnier is that the cashier said, "
again???
that's the second time this week!" apparently some drug cartel has been smuggling "some" drugs (and bricks) in camping bags across the city! i didn't stick around long enough to see if they gave her her money back. i'm guessing they did.
there's really no way to segue in to the inspiration picture except to just get on with it. so here it is.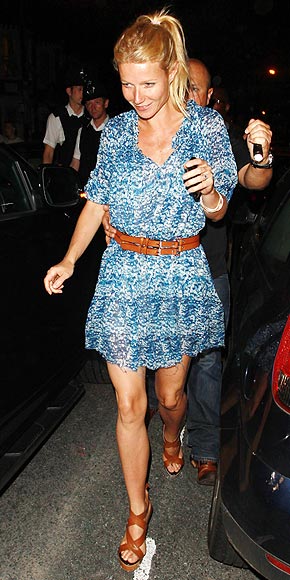 gwyneth paltrow
megan bird
two things about these pictures. one, i tried to take more face-on photos. two, as i was taking outside pictures by myself, my neighbors decided to all come out and have a party. i was too embarrassed to stay out there, so i went inside. sorry for the lame-o inside pics!
desi has also decided to take more face-on pictures. blog dog.
dress ~ target
shoes ~ trend report, thrifted
earrings ~ kohls
belts ~ both vintage, thrifted
ring ~ F21
nora bird
i love her patriotic nails!
dress ~ H&M, thrifted
shoes ~ Mossimo, Target
belt ~ vintage, thrifted
bracelet ~ H&M
happy monday, everyone!
xoxo,
two birds