first of all, thanks to
jill
for my awesome four pack of tickets to ovo, the latest cirque du soleil show. we have a camping tradition every father's day, and this year was no different. ok, it was. 1. we brought our brand new (to us) scamp out for camping this year. don't know what a scamp is? ask me, and i will tell you all about it. and, i plan on doing a blog post about it soon. basically, a scamp (our scamp) is a super awesome retro camper. it is just enough to sleep our family of four. it also has a fridge, a stove top and a sink...all three of which we did not use this weekend. this weekend, it was a glorified tent, and we loved every minute of it. scamp, i love you. but back to jill. reason number 2 that made this weekend different was that we won tickets to see ovo. it was a-mazing. if you haven't had a chance to see one of these shows, buy some tickets. the sheer strength of the people in these shows is worth the price of admission. imagine the most amazing yogi in the world, and then imagine her performing her yogi skills in costume, to music, and with props and loads of other people. if i could have one quarter of the strength of these people in cirque du soleil, i could kick all of your asses. not that i want to, but i could.
anyhow, the show was amazing, so amazing that we drove from our camp site to see it, and then back to the camp. again, if you don't know about cirque du soleil, imagine this...a man on a tight rope, on a unicycle, on his hands, riding the unicycle. you think i'm making this up, but i'm not ~ i saw it. i also saw a woman bend herself in half and then cross her legs like a true lady while she was pretzeled in half. i could go on and on about how amazing these people are. i think it's impressive that at 37 i can still do the splits, but it's not really. these people are impressive...like walk sideways up a wall impressive. again, i saw that, really.
ok enough about these crazy cats. on to the inspiration. gotta love olivia wilde. she is gorgeous, and she gets to work with greg house. don't watch house? you should. but really, this outfit is perfect...it's simple and easy, while at the same time being beautiful and classy.
inspiration: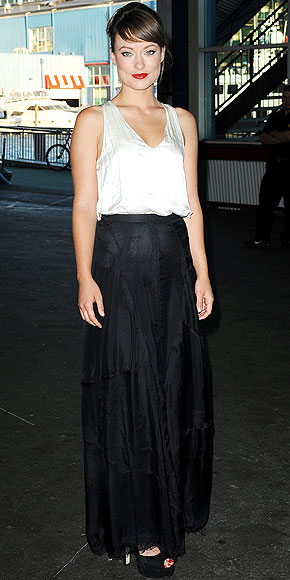 megan bird
pants ~ kohls
tank ~ thrifted
shoes ~ target
earrings, necklace ~ F21
ring ~ heartbreaker
nora bird
skirt ~ thrifted, talbots petites
shirt ~ thrifted, theory
shoes ~ pink duchess, dsw
rings ~ h&m
belt ~ vintage, thrifted
happy monday all! be inspired today!
xoxo,
the birds