good morning, all! i hope you're all having a great monday so far. i am, actually, i'm coming off a weekend where i did nothing, and i needed it! i love lazy weekends, when all i do is hang out with my family. i had a girl's date at nickelodeon universe with my daughter, which is a little theme park inside the mall of america. she is fearless and went on all the rides, and she even got to meet dora the explorer. this is her face when she saw her...
so now it's monday...and it's the week of our
big sale
! i can't believe it's already here. we are SOOOOOO excited! it's going to be awesome. if you live in town...we'd love to see you!
so anyways, on to to my inspiration. i realized that i hadn't done a carrie bradshaw inspired look yet. what woman wasn't inspired every sunday night by her wonderful outfits. if i could own just half of her closet, i would be overjoyed! or even half of her shoes. what do you think? wouldn't you love it??? so i found this cute little number and thought, why not...i'll try it out.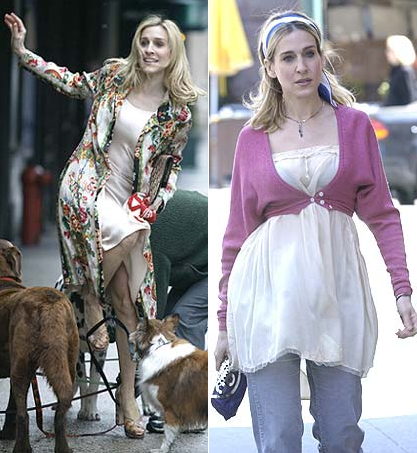 sorry for the double photo...i am only "inspired" by the one on the
right
today. unfortunately, i just can't do a body-hugging silk dress! did i mention i love her style??? here's my take...
did i mention my camera got stolen this weekend? sucks, but what can you do? so, i am back to using the phone for now (although nora was kind enough to lend me her point and shoot! thanks, sis!) does anyone have recommendations for a new camera?
well, there you have it. i hope you all have a fabulous week! keep your fingers crossed for a great sale this weekend!!
slip (shirt) ~ vintage, thrifted